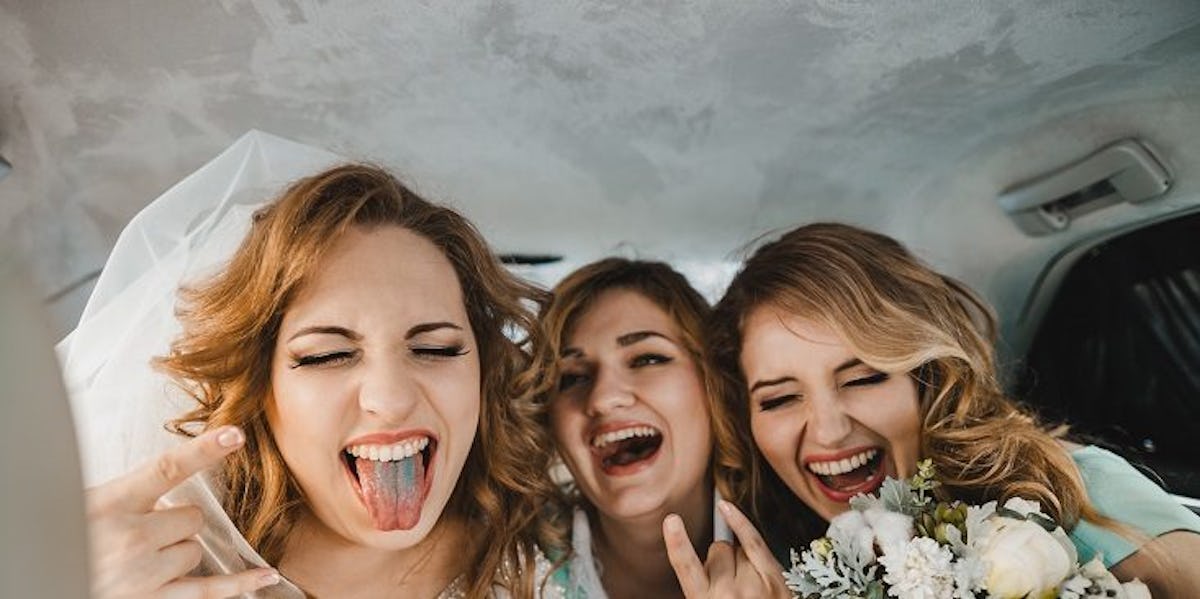 6 Adorable Bridesmaid Gift Ideas To Give Your Mains Before The Big Day
Jurij Krupiak/Shutterstock
Asking your go-to girls to be your bridesmaids is the easy part. They're your ride or dies, so it was simple for them to say yes to being part of your special day. Now, gifting something adorable for your girls to show your gratitude to them for making that day even more memorable should take a little more thinking power. Brainstorming a list of things to give your bridesmaids before the big day is an extremely special task; you're handing over something that'll embody the everlasting memories of your wedding and their involvement.
Of course, the wedding is already a tad expensive at times, so you don't have to get each of your bridesmaids a yacht or something. Picking out a gem -- a gesture that speaks so loudly it'll be hard to hear anything else over tears of joy and laughter. You want to stray from the ordinary, because your moment and time with them during your wedding wasn't at random or average... it was extraordinary.
Live a little bit, and really sit back and think about what could actually embody your bride tribe. No simple trinket will do when summing up just how much their role in your wedding and in your life means to you. If gifting isn't necessarily your thing, play with a few of these ideas to present to your favorite ladies.
1. Show Them They Completed The Puzzle
Personalized Puzzle Piece Necklaces, $18, Etsy
Puzzle pieces are an amazing way to show your girls that your special day would have been incomplete without them. Each one of them can wear their necklace as a reminder that your wedding is and always will be engraved with a memory of them. Being a bridesmaid is a big deal, and these necklaces prove it.
2. Boozy Bracelet Flask
Charade: Rose Gold Bracelet Flask, $45, Blush
And just like that, there is another innovative way to look cute and sip on booze. Find a bracelet that matches those bridesmaid dresses, and the rest is up to them. Not only can they help subside pre-aisle jitters, but they'll get a little lit just before you get hitched.
3. Comfy, Oversized Matching Flannels
Flannel Bridal Party Dressing Shirts, $35, Etsy
Who doesn't love oversized flannels? Instead of raiding the closets of the groomsmen to acquire this look, hand comfort over to your ladies and put the finishing touches of their names on it. It's time to get cozy and comfy as you sip mimosas and wait for your wedding bells cue.
4. Monogrammed Pajama Pants FTW
Monogrammed Pajama Pants, $28, Etsy
OK, comfy clothes will seriously never be a downer. They're acceptable for almost any occasion -- before, after, and even sometimes during. Of course, your ladies shouldn't be wearing these down the aisle, but during the afterparty, they are certainly fair game.
5. Powerpuff Girls Coffee Mug
Emana Custom New Arrival Powerpuff Girls White Mug, $22, Amazon
Since bridesmaids (more times than not) keep you from any barriers on your big day and literally save you in any circumstance, superhero mugs are acceptable. Now, maybe the coffee they put inside is their super power, but nonetheless, they're a group of your mini heroes. Together, bridesmaids are basically invincible.
6. Pink Bullet Bottle Openers
Set of .50 Caliber Bottle Openers, $105, Bullets2Bandages
Not many people can say that they have a bullet bottle opener. And since your ladies are a group of unique catches, this unique gift is perfect for them. This is definitely a gift that's hard for anyone to forget. Your bridesmaids are different in their own way, but their very presence together is symbolic. Each of them may have served as the same title for your big day, but they'll always mean something individually special to you.