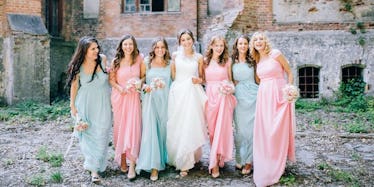 9 Best, Creative Ways Brides Have Invited Their Girls To Join Their Bride Tribe
shunevich24/Fotolia
When it comes time for a lady to say "I do," there's no way she can do it without her squad by her side. A woman's bride tribe can make or break her whole wedding experience, so obviously she's only going to ask those who are close to her heart. Brides are upping their game when it comes to creative ways to ask someone to be your bridesmaid, which puts extra pressure on us future brides.
Never fear, there's a whole online world of ideas at your disposal. You can take an example from a creative bride before you, or come up with an idea that's all your own. Consider personalizing your bridesmaid proposals for the ladies you love, because your wedding experience will be once in a lifetime. Planning your wedding with your girls and your hubby-to-be is a lot longer of a process than the wedding itself, so you can start it off right with a fun and personal surprise for the main ladies in your life. They'll be by your side the entire time celebrating and helping you with your every need, so treating them with a little gift and a place in your wedding party will mean the world to them.
1. With A Theme And A Gift
When your friend asks you to be her #bridesmaid in her @SandalsResorts @SandalsWeddings #Antigua #Wedding you say yes!pic.twitter.com/x58rQ21peX — Ally Verdi (@chicagowives) August 22, 2017
For many brides, a wedding theme is a must. If you're getting married around a holiday or in a special destination, you probably won't have to do much searching for a theme. Use your bridesmaid proposals to begin incorporating your theme for your big day.
2. Written In Delicious Frosting
When your best bud...who may I add is an incredible pastry chef asks you to be her bridesmaid! I'm honoured :) @Ffi_Lew pic.twitter.com/eoQgH23Lrl — Jessica (@jessicamaryev) August 2, 2017
Cake is never a bad idea, so you really can't go wrong here. You can surprise your girls with something sweet (both literally and figuratively) when you pop the question. There's no way they can say no.
3. Personalized Gift Boxes
Cute idea for bridesmaid "asks" https://t.co/ElFDOhIYJH #bridesmaids #weddingideas pic.twitter.com/eF3KO87zgS — Ivory in Bloom (@ivoryinbloom) July 27, 2017
If you're ready to go all out, try your hand at making gift boxes for your bridesmaids. Fill the box with candles, sweets, letters, gifts, or anything else you'd want to give your girls. Don't forget to decorate the box, either.
4. With Booze
When your BFF asks you to be a bridesmaid!!!! YAAAYY!!! So happy my bestie is engaged!!!#bridestobe #megsaidido pic.twitter.com/SrMeeYDiYe — Stephie Ann (@StephieAnn0785) June 15, 2017
If your bride tribe likes to party, this is a great way to go. On the one hand, it's almost classic, but you can personalize the bottles for each of your bridesmaids. The real fun begins when the bottle opens, of course.
5. With A Special Cup Of Coffee
10 Simple Bridesmaid Asks that Won't Break t... https://t.co/Qn3C7ahMQo via @mywedding | https://t.co/WfeaeF24ER pic.twitter.com/mM9OyVfgBf — Nadine Amore (@coshoctonwed) March 1, 2016
If your girls are more of a coffee kind, there's no shortage of special mugs to help you pop the question. You can paint them yourself if you're an artist, but a quick internet search will bring you plenty of options for shopping, too. Not too much work is required, which is great for a busy bride-to-be.
6. A Message In A Bottle
Will You Be My Bridesmaid Message In a Bottle #DestinationWedding #Wedding pic.twitter.com/yxh3PEZr4D — Awaken Travels (@awakentravels) September 18, 2017
Especially for a destination wedding or a ceremony on the beach, a message in a bottle is an adorable way to ask your bridesmaids to be by your side. It'll be a great way to introduce your theme and let you see what kind of themed decor is out there. It's also a great DIY project you can work on with your future hubby.
7. With Something Punny
Will you be my Maid of Honor / Maid of Honor Proposal / Will you be my Bridesmaid / I Do https://t.co/zH2FkqQ4eb pic.twitter.com/VTLLvOemV3 — My Soapgrams (@MySoapgrams) September 16, 2017
If you don't have a wedding theme just yet, you can still have a theme for your bridesmaid asks. An easy idea is to use a pun or even an inside joke to make your ladies laugh while they answer the question. It will make the ask even more memorable for all of you.
8. With Something Yummy
". . .Check out these custom "Will you be my bridesmaid?" cookies!" @cookiescupcakebydesign #cookiesbydesign #cupcakebydesign #bridesmaids pic.twitter.com/i7hgrW6FVj — Cookies By Design (@cookiesbydesign) August 18, 2017
Even if you don't have your own Food Network show, you can still surprise your bridesmaids with a personalized treat. Bakeries often make custom sweets for a special price, so ask around town to see what options you might have. It might not be the cheapest option, but you'll barely have to lift a finger.
9. With A Puzzle
9 Will You Be My #Bridesmaid Gift Ideas for Your Best Friends. https://t.co/fVuHUgSpMI Make them with our help https://t.co/PuJFCtuKDA pic.twitter.com/8gdHSNZtOL — The Paperbox Ltd (@ThePaperboxUK) August 4, 2017
If your bridesmaids are going to be the ones doing the work, help them ease into their role with a puzzle or a scavenger hunt. It's interactive, so your girls will feel involved as soon as they join your bridal party. Extra planning may be required.