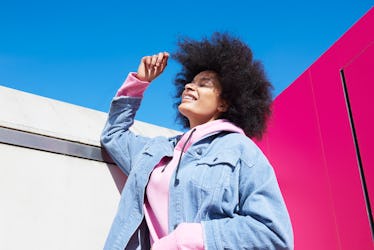 7 Mantras To Recite When You're The Only Single Person In Your Group
No matter how much you love the freedom of single life, being the only single person in a group can definitely feel awkward. There's just something about watching other people connect that can make you hyper-aware of what it feels like to be on the outside. In situations like these, it can be helpful to remind yourself that you don't need to be in a relationship to live your best life. Having mantras for when you're the only single person in your friend group can help keep the good energy flowing and the bad energy at bay.
According to Pricilla Martinez, CEO of Regroop Online Life Coaching, it's normal to feel awkward or left out when hanging out with a group of friends who are all coupled up. "It can be downright painful to be reminded that relationships are happening for other people," Martinez previously told Elite Daily. "You can't help question why a relationship is not happening for you." Even though feeling like an additional wheel can be uncomfortable, it's important that you don't let any awkwardness ruin your day. Here are some empowering mantras that will help you stay grounded and positive when everyone around you is in a relationship.