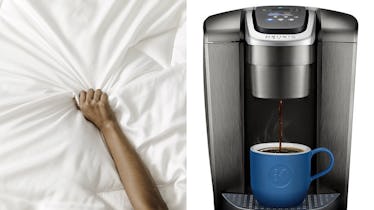 What To Invest In To Make Your "Young" Apartment Feel Like A Real Home
Buffy/Amazon
I remember my first trip to Bed Bath & Beyond like it was yesterday. I had just graduated college and was in desperate need of the basics, like towels, curtains, and a laundry bin. I don't remember this trip because it was particularly fun or exciting; in fact, it was the opposite. I had just accepted my first job, and I was barely making enough to cover my rent — let alone the things I could do without (yes, you can work without a shower curtain if you're careful enough). When I got a little older and a bit more comfortable financially, I realized I could — and should be — investing in myself and my home, and that it could even be fun to do so. These seven little ways to upgrade your life when you turn 25 will help you feel like you are honoring your personal space, and will help everything about your life feel a little more "adult."
From fluffing up your bedroom to something besides the cheapest option at Ikea, to curating a wine collection that actually caters to your favorite red, these small investments are easy ways to feel like you have your apartment ( and life) put together, and like you're curating a home to your tastes.
Wine Glasses You Actually Chose
What is it about wine glasses and the way they just sort of collect in your apartment? Your roommate brought home a single engraved glass she got from wine tasting years ago, and you have about three different mismatched ones you took as wedding souvenirs. Now that you're fully immersed in the 9 to 5 lifestyle, wine is likely a part of your norm. Give back to yourself by picking out a set that you actually want, instead of one you just sort of inherited from your roommates.
A Cruelty-Free Comforter That Keeps You Cool And Cozy
This comforter by Buffy is amazingly soft and fluffy, but also gives back to the environment in a huge way. Each Buffy comforter saves 12 geese from being live-plucked and saves 1,000 gallons of water by eliminating the need for cotton farming. Before I found Buffy, I had a budget comforter that actually deflated over the course of a year, and I hated seeing the feathers collecting at the bottom of the plush, since I had no idea where it came from (and what animals it may have harmed). Buffy is made using recycled bottles and eucalyptus plants, and you can rest assured that no animals or planets were harmed in the making of your heavenly nap experience.
A Real, Adult Nighttime Skincare Routine
For so long I was a total skincare newb, and then I got horrific acne last year for the first time in my life (at 26!). I had to go on a prescription cream to clear the bumps, but the experience taught me that since I was getting older, I could no longer skimp on skincare. I quickly began a routine that includes removing my makeup and cleansing, using a nighttime serum and moisturizer, and patting on some eye gel.
A Real, Adult Morning Skincare Routine
Did you think you can just slather on a few products at night and be done? Well, maybe you can, but since I wear CC cream and mascara every day, I had to invest in morning products that would refresh my sleepy skin and get it ready for makeup in the morning. I don't wash my face again in the morning (who has the time?), but I do moisturize again and prime my face before I put on makeup. I love this lightweight moisturizer that literally spreads all over your face with just a tiny amount of product.
A Coffee Machine Suited To Your Lifestyle
I love this Keurig coffee machine because you can set it to "strong" to brew your favorite bold flavors or even set it to "iced" to brew iced coffee in the summer. Sure, you're 25 and might have more money now, but you're also a lot smarter than you were in your early 20s. That means you know that splurging on an iced coffee every day adds up quickly, and you have more important things to spend your hard-earned cash on. I love that you can just make one cup and not have to worry about turning the machine off or wasting leftover coffee from the pot.
A Sleeping Mask That Lets You Create Your Own Hours
OK, so you might not be able to afford a place to yourself yet, or your room might have the most windows (and no curtains). Either way, a sleep mask is genius in letting you create your own hours to take a cat nap as you please — even in the day time. I bought this mask a few months ago and it has been a lifesaver on the weekends. Sometimes at 10 a.m. the light wakes me up from my window, and I remember how hard I obviously worked throughout the week and decide to gift myself with an extra hour of sleep. This sleep mask if probably the best $10 I've ever spent.
An Insta-Worthy, Soothing Candle
To create a relaxation corner in your bedroom, all you need are a few candles, a few sticks of burning Palo Santo, a face mask, and maybe even some tarot cards to set the mood. Use the Palo Santo to cleanse negative energy from your space, and use the tarot cards for self-reflection. Either way, with this candle (which smells like fig leaves), you get a relaxing scent that also makes for an amazing Instagram. You're 25 now, you can have both.
During the hustle of getting through your early 20s, you probably were working hard to make sure you had all your essentials, and not thinking about what you truly wanted and what suits your unique style. These little upgrades to your life will make your space feel more personal and adult, no matter how many roommates you still have to deal with.