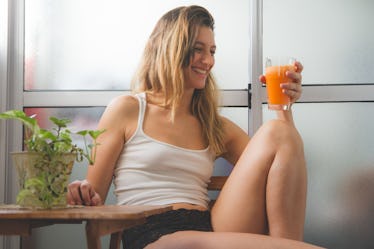 These 5 Products Will Make You Look Forward To Waking Up In The Morning
When I dreamed of living in New York City as a youngster and having my writing dream job, I never once thought about how hard it might be for me to actually wake up and, you know, make it to that dream job. Shocking, I know, but a 9 to 5 actually starts at 9, meaning you have to get up around 7 and slug your way to the subway around 8:15. Sure, knowing I can grab a cup from my favorite coffee spot motivates me on some days, but most days I need a bit more to push me out the door. Eventually, I knew I'd have to create my own system to keep me pumped to wake up at that crack of dawn, and through trial and error, I can attest these five products actually make you want to wake up in the morning.
According to Psychology Today, switching up your habits can result in increased attention span during your day, and even make you better equipped to reach your goals in your work and personal life. If you're not a natural morning person like me, hopefully these products will help you get excited about life on a Monday, and maybe even help you crush your workload. Here are the five things that worked for me, a notorious night owl, to learn to appreciate the mornings just a little bit more.
A Night Serum That Will Make You Happy To See Your Skin In The Morning
My mom always bought my sister and I Philosophy products when we were growing up, and now that I'm a bit older, I've developed my own skincare routine with it. This serum evens out my red skin tone and helps me stay on top of my nightly ritual (which signals to the brain that it's time for bed). In true serum style, it comes out of a dropper which makes me feel like I'm turning my face into its own little science experiment. I find it doesn't dry out my skin, so I don't usually apply a moisturizer afterward. When you look forward to clear, even skin, it makes me want to go out and show my face to the world.
A Break From Your Breakfast Routine That Creates Some Buzz
I love Pearl Butter's beauty butters that help add collagen to your diet, and now they have a collab with Not Pot, producing adaptogen butters infused with matcha and, heavily trending, CBD oil.
There aren't a ton of studies done on CBD oil confirming its benefits, but according to the Not Pot website, "Cannabidiol (CBD) is one of more than a hundred cannabinoids in cannabis, and it's been well-documented to possess anti-inflammatory, neuroprotective, and anti-anxiety effects. Because CBD is non-psychoactive, it won't make you high."
I usually just have a banana with PB for breakfast, but when I got CBD-infused butter to add to my breakfast routine, I was quick to spring out of bed to have time to drop a few spoonfuls of this into a morning smoothie. There's nothing like figuring out an easy way to knock out your fruit intake in the first hours of the morning that make you feel like you're off to a good start. Plus, if you hate coffee, the added matcha in this butter is a great way to get your (healthier) caffeine fix for a calmer buzz.
Wake Up Without Feeling The Harsh Elements
I've had some horror stories with humidifiers (think pools of water spilling out over my entire bedroom floor), and with that knowledge on hand, I wouldn't recommend buying just any drugstore branded humidifiers. Amazon has some great options, including this one that doubles as an essential oil diffuser. I have a huge problem with dry eyes, so waking up in a humidified room helps me not lag to get my first blinks in. It also helps you breathe better while you're sleeping.
A New Beauty Product You're Excited To Use
I've secretly become a beauty junkie over the last year, and being able to try out or incorporate a new product into my morning routine always makes me excited to start my day. I have a huge problem with keeping my makeup on all day (I'm always breaking a sweat during my commute), and I hate the way my CC cream looks without something to cover up the pores on my nose.
This product is the perfect fix; it's a K beauty gem and goes on in the morning, under your makeup to set it in place all day. It also improves skin elasticity and acts as a primer to smooth out any bumps on your face. When you pat the gel on your face, it feels like a cooling splash, which is a quicker, easier way to feel refreshed if you skip a morning shower.
An Upgrade To Your Everyday Tasks
Think about the everyday ways you're living your life, and see where you can improve. Even mundane tasks you don't spend a second thinking about in your morning can be improved to make every task feel a little less stressful.
Do you use leftover dish soap for your bathroom hand soap? Splurge on a sweet smelling, foaming upgrade. Are you still brushing with a soft bristle disposable you've been re-buying your whole life? Upgrade to the adult version of brushing, and get a sleek electronic version. Quip's electric design is less bulky than typical electronic toothbrushes, and comes with a wall mount you can attach directly to your mirror.
Making these small yet mighty changes is a great way to give yourself some TLC in the morning. In my opinion, the easiest way to get yourself out of bed in the morning is to give yourself something to be excited about. Swapping coffee for matcha or adding a new skincare product to your routine can be a big enough change to get you going.