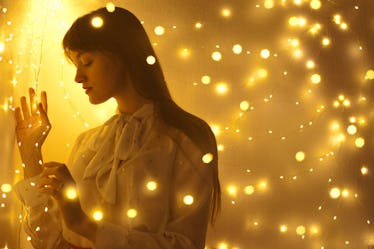 The Easiest Ways To Find Inspiration When You Need It Most, According To Experts
Who among us doesn't get burnt out? It's that feeling when your body, mind, and spirit are all, "I just. I can't." Between professional, academic, and social obligations, gathering the energy for ~life stuff~ can seem like a rather big task sometimes, not to mention actually enjoying what's happening while also feeling motivated to show up for it all. But trust me when I say there really are easy, little ways to feel inspired when you're stuck in a rut, or sense that you're on the edge of total burnout. It all begins with making space for some new self-care actions.
First of all, let's pause for a moment to talk about burnout, because it's very real, y'all. As ScienceAlert points out, it's usually seen as the result of "a chronic stressful work environment." What's more, the outlet says, the term "burnout" first came to public attention during the 1970s, when research was showing that many employees in human services were finding it hard to cope with job stress — in other words, they were experiencing burnout, which has since been shown to be linked with other difficult mental health struggles, like depression.
Self-care coach Carly Schweet tells Elite Daily over email that staying inspired in the face of burnout can definitely be tough, but taking care of your well-being, she says, should always be a top priority, no matter what.
A good place to begin, Schweet explains, is to simply remind yourself why you started whatever it is you're doing right now in your life in the first place, whether it's a job you snagged just to pay the bills while you work on a passion project on the side, or you're continuing to learn how to code after you get home from your PR job every day. Even when it's seemed impossible to reach these goals you originally set for yourself, you've always managed to stick with it all, because it's all about literally accomplishing your dreams — and that's all worth it in the end.
So when it feels like that sense of inspiration is slipping away, here's how to maintain your grasp on it, and feel genuinely passionate about what you're doing.