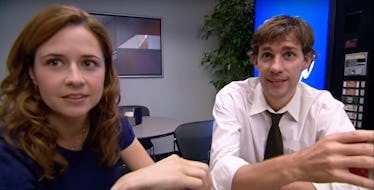 I Learned These 7 Life Lessons From 'The Office' & I'll Never Forget Them
I don't think I'm alone when I say sitcoms have taught me so many things I need to know about the "real world." Like me, your favorite episodes of Friends have taught you about how to be a good roommate, how to maneuver a big couch up a tiny flight of stairs, and how to fall in and out of love. But you also know the gang at Dunder Mifflin have been the greatest teachers of all time. I do declare that these life lessons from The Office should never be forgotten.
In my opinion, this sitcom that follows a bunch of people who work at a paper company in Scranton, Pennsylvania is as real and genuine as it gets. It captures the typical nine to five job, from the conference room meetings to the office pranks, and every Pretzel Day or Christmas party in between. It also shows you and your BFFs what can happen when you trust and believe in yourself.
That's why it's so easy to love, connect to, and relate with the characters, whether they're a beet farmer, a fun-loving boss, or a receptionist who got kicked out of Chili's. TBH, that's also why I'll never forget these life lessons, too.