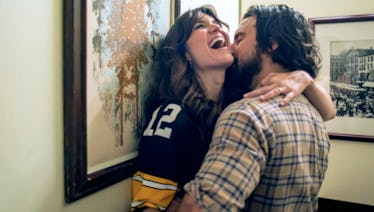 Here's How To Pull Off The Perfect 'This Is Us' Jack & Rebecca Halloween Costume
NBC
Ahh, fall. A time for apple picking, trick-or-treating, and, if you're a This Is Us fan, ugly crying in front of your TV. Don't spend too much time sobbing on your couch, though, otherwise you won't have time to plan the perfect Jack and Rebecca from This Is Us couples costume. That's right, Jack and Rebecca have become one of TV's most iconic couples, and they have some signature looks from the first season that any true TIU fan would recognize. Whether you decide to go as '70s, '80s, or '90s Jack and Rebecca, one thing is for sure: Everyone at the party will have misty eyes because of you and your partner this Halloween.
Of course, it's been an overwhelming year in film and TV, so costume options are limitless. Indeed, you and your significant other can put together creative, unique costumes and go as your fave Game of Thrones characters, Veronica and Archie from Riverdale, or characters from Rick & Morty. As exciting as all of those ideas are, though, none of them compare to going as the year's most celebrated couple. Here are just a few of the looks you can take from This Is Us to create a near-perfect and fun Jack and Rebecca costume.
Jack's Looks
For Jack's costume, there are a few different options. There's classic Jack, army Jack, Steelers Jack, and towel Jack, to name only a few. Here's what you'll need for those costumes.
Classic Jack
If you want to keep it simple, you can go with a classic Jack look. This is easy to throw together last minute, too, if you have a flannel shirt, some jeans, and a jean jacket laying around.
Here's what you'll need:
A Flannel Shirt, $20, Kohl's
A Pair of Levi's 501 Jeans, $37, Kohl's
A Jean Jacket, $48, Hollister
A pair of boots (any boots will work)
Towel Jack
By far the simplest version of Jack Pearson, the "towel" look takes it all the way back to Season 1, Episode 1. If you're in a bind, this costume can be put together in the blink of an eye.
Here's what you'll need:
Pittsburgh Steelers Dual Terrible Towel, $10, NFL Shop
Double-Sided Tape, $10, Amazon
If you really want to take this look all the way, get yourself a pair of boxer briefs to match your skin tone and give off a nude illusion. Otherwise, you can purchase two Pittsburgh Steelers Dual Terrible Towels — one for the front and one for the back.
Steelers Jack
Another fairly simple look; everyone who knows anything about This Is Us knows what a diehard Steelers fan Jack is. Put this look together with a Steelers shirt (or a customized jersey if you have an extra $325 laying around).
Here's what you'll need:
Pittsburgh Steelers Beanie, $24, Mitchell & Ness
Pittsburgh Steelers Shirt, $23, Old Navy
A pair of jeans
Rebecca's Looks
For Rebecca, you could go a few different ways. There is, of course, classic Rebecca, then there's '70s Rebecca, singing Rebecca, and Steelers Rebecca. Here's what you'll need for those costumes.
Classic Rebecca
For Classic Rebecca, a denim skirt and a simple blouse are your best bet. You can add a bit of flair by wearing a wig that resembles Rebecca's hair style.
Here's what you'll need:
A Denim Skirt, $37, Levi's
A Viscose Blouse, $18, H&M
A Rebecca Pearson Wig, $16, Light In The Box
Steelers Rebecca
The perfect counterpart to Jack's Steelers costume, Rebecca's sporty look is an easy way to pull of one of her signature aesthetics from Season 1.
Here's what you'll need:
Pittsburgh Steelers Shirt, $23, Old Navy
A pair of jeans
A Rebecca Pearson wig, $16, Light In The Box
'70s Rebecca
Take it all the way back to when Jack and Rebecca were new parents in the '70s for this Rebecca look.
Here's what you'll need:
A Dark Green Plumeti Blouse, $25, H&M
A Pair of Bootcut/Flared Jeans, $40, H&M
A Pink Beret, $14, Amazon
Singing Rebecca
The final Rebecca look is one of her most recognizable from Season 1: It's her finale look. This one will take a bit more work, since you'll want to get the hair just right, but it's definitely worth it if you're going for a flawless Rebecca costume.
A Formal Blue Dress, $20, Amazon
A Blue Flower For Your Hair, $10, Amazon
A Medium-Brown Curly Wig, $15, Amazon
There you have it, folks. The best Jack and Rebecca looks for your couples costume this Halloween. Here's to hoping you have a fun, safe Halloween. Just make sure you bring tissues for your friends.
Check out the entire Gen Why series and other videos on Facebook and the Bustle app across Apple TV, Roku, and Amazon Fire TV.