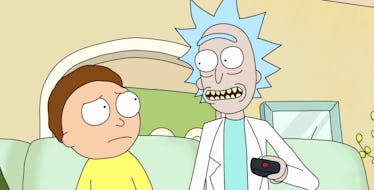 7 'Rick & Morty' Halloween Costumes To Take Your Party To Another Galaxy
Cartoon Network
There's no show on the air right now with a more ridiculous and colorful cast of (literally) out-of-this-world characters than Cartoon Network's philosophical sci-fi mindf**k, which is what makes it perfect for Halloween costumes. Rick & Morty just wrapped its third season at the start of October, so it will still be fresh on everyone's minds as Halloween rolls around at the end of the month, and the insane, dimension-jumping storylines on the show lend themselves so well to creative and unique costumes that will totally help you stand out at your friends' Halloween parties. Here are some excellent Rick & Morty costumes and ideas for Halloween this year.
Obviously, the first thing to come to mind is the title characters themselves. If you aren't familiar with the show (which, you probably should be if you're going to dress up as someone from it for Halloween... and also it's just like, a really good show), Rick Sanchez is an alcoholic scientific genius who brings along his timid grandson Morty Smith on various missions and quests throughout time and space. It's kind of a play on Back to the Future, but a lot more science fiction, graphic violence, and mindf**kery. Anyway, here are some costume options from the show.
1. Rick Sanchez
Rick Sanchez Costume, $40, Spirit Halloween
I just finished covering New York Comic Con, and without a doubt the most prevalent costume there was Rick Sanchez. Although Rick & Morty premiered at the end of 2013, it's grown to become even more of a cultural touchstone this year than in the past after gaining a rabid online fanbase. You'll probably be seeing a good amount of Ricks this Halloween, and you can get the look as well for just 40 bucks from Spirit Halloween.
2. Morty Smith
Morty Smith Costume, $30, Spirit Halloween
The other half of the show's title, you can also suit up as Morty in this mask and yellow shirt also available from Spirit Halloween.
3. Mr. Meeseeks
Mr. Meeseeks Costume, $50, Walmart
One of the great things about Rick & Morty for people looking for unique costume ideas is that aside from the eponymous duo, there are a ton of iconic side characters fans of the show love just as much. You can be comfortable and in costume as Season 1 standout Mr. Meeseeks with this onesie from Walmart.
4. Portal Gun
Portal Gun, $15, Entertainment Earth
The perfect accessory for any Rick Sanchez costume is this perfect replica of his portal gun, which also lights up and has sound. Get it from Entertainment Earth for 15 bucks.
5. Pickle Rick
Pickle Rick, $30, Party City
One of the standout recent episodes of the show involves Rick transforming himself into a sentient pickle. To get the timeliest Rick & Morty costume of them all, consider snagging this generic pickle costume from Party City and adding all the Rick-defining features you can think of.
6. Jerry Smith
Brown Wig, $6, Ali Express | Green Polo Shirt, $10, Epic Sports
It's easy to find costumes for the show's main duo and the more outrageous alien standouts, but if you want to dress as the Smith family you'll have to be a bit more creative. Jerry Smith's mundane look will require some cheap DIY, basically just a green polo and a short brown wig. You can get a cheap green polo from Epic Sports for ten bucks, and a simple brown wig from Ali Express for around $6.
7. Summer Smith
Pink Tank Top, $6, H&M | Orange Wig, $15, eBay
Another easy costume to put together yourself is Morty's big sister Summer, who is known for her orange hair and pink tank top. You can get a pink tank top for just 6 bucks from H&M, and then snag an orange-colored wig from eBay for $15. Just remember to put that wig up in a ponytail and you're good to go!