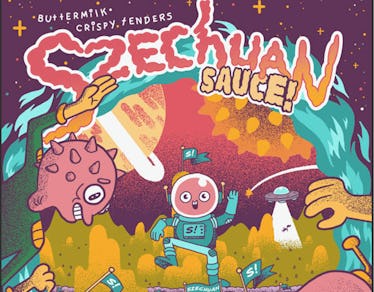 McDonald's Is Bringing Szechuan Back For A Day And Twitter Is Literally Losing It
If you are a watcher of Adult Swim's weirdly addictive animated television show, Rick and Morty, odds are you learned about McDonald's Szechuan Sauce after seeing the first episode of season three. In this episode, Rick Sanchez tells a galactic federation agent that the Szechuan Sauce is really great -- and after trying it, the agent totally agrees. They are only able to order the sauce from a local McDonald's because they are in a simulation of Sanchez's memory and the sauce has long been discontinued. After this episode aired in April 2017, the frenzy over the specialty sauce grew leaving viewers wondering what the sauce tastes like and asking themselves, "When McDonald's will bring Szechuan Sauce back?"
Before we get into when the popular sauce will make it's long-awaited return, let's talk about Szechuan Sauce's history. McDonald's Szechuan Sauce was released back in 1998 as promotion for Disney's Mulan, Buzzfeed News reports. The sauce was supposed to mimic the traditional Chinese Szechuan sauce. The year 1998 marked the first -- and seemingly last -- time McDonald's customers would get a taste of the elusive McNugget dipping sauce. That is, until Rick Sanchez decided to enjoy the sauce in his memory making fans of the show go crazy about the sauce's possible return.
Many believed they would only be able to taste the sauce again (or for many of us, for the first time), when the live-action Mulan premiers in 2019, but McDonald's had other ideas. To help promote the recently released Buttermilk Crispy Tenders, McDonald's is re-releasing their coveted Szechuan Sauce. On Oct. 7, for one day only, participating McDonald's locations will be offering customers the chance to finally get their hands on the Szechuan dipping sauce. To check if a McDonald's near you will be participating, click here.
Naturally, McDonald's and Rick and Morty lovers alike have taken to Twitter to share just how hype they are about this long-awaited comeback.
"MCDONALDS IS BRINGING BACK SZECHUAN SAUCE THIS SATURDAY!"
"Hi uhhh.... Can I get 100 containers of szechuan sauce? oh and 5 nuggets on the side."
"SZECHUAN SAUCE IS COMING TO MORGANTOWN @RickandMorty THIS IS NOT A DRILL"
"Me: "Will, let's go to McDonald's on Saturday. They're bringing back the Szechuan sauce"
Will: *literally screaming*"
"Mc Donald's bringing back the szechuan sauce thanks to @RickandMorty so catch me there Saturday on the 7th"
"Hey I'm not gonna be in canada oct 7 but can someone go to McDonald's that day & get me some szechuan sauce I've gotta know man"
"Looks like I'm driving about 200 miles to get some Szechuan Sauce. It better be the best damn sauce I've ever had the privilege of tasting."
"I deadass just called 3 McDonald stores to see if they were participating in the Szechuan sauce & NONE OF THEM KNEW WHAT I WAS TALKING ABOUT"
My advice is, plan accordingly if you are planning to get Szechuan Sauce because the lines might get pretty long.
McDonald's basically admitted that they are releasing the sauce because of persistent Rick and Morty fans in this statement from their website:
Szechuan Sauce fans are typically incredibly motivated, born winners that combine a sweet disposition with a slow burning heat. When these people set goals (or make outright demands), they tend to achieve them. Sometimes, their impulsivity can get them into all sorts of hijinks, but their mad genius is their portal out of trouble. They truly put the "I WANT THAT SZECHUAN SAUCE" in "Buttermilk Crispy Tenders."
You see, sometimes nagging actually pays off!
Check out the entire Gen Why series and other videos on Facebook and the Bustle app across Apple TV, Roku, and Amazon Fire TV.