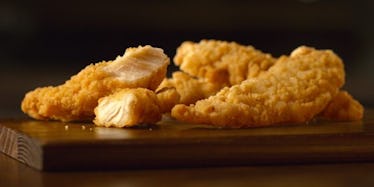 McDonald's New Chicken Tenders Are Just Like The Old Ones & Twitter's So Pumped
McDonald's
Raise your hand if you were bummed out after learning McDonald's Chicken Selects were taken off the menu (*raises hand eagerly*). Americans far and wide were shocked when they visited McDonald's drive-thru to order their favorite chicken menu item, just to find out it is no longer available. I mean, chicken nuggets are great -- but let's face it, nothing beats chicken strips. In the air of nostalgia, McDonald's Buttermilk Crispy Chicken Tenders are back, and the Twitterverse can't contain their excitement.
We said goodbye to McDonald's Chicken Selects back in September of 2013 -- and since then, chicken strip-lovers have searched far and wide looking for a snack that would fill that void. I think I can speak for Selects lovers everywhere when I say that it's been really hard finding a replacement for Chicken Selects. After much complaining, McDonald's finally decided to give the people what they want.
This time, however, instead of simply being "Chicken Selects," the Golden Arches have graced us with Buttermilk Crispy Tenders (the name alone is enough to make the mouth water). According to the new menu item's description on McDonald's website, the Buttermilk Crispy Tenders are "battered and breaded to perfection and made with 100 percent white meat chicken, with no artificial preservatives, colors, or flavors. Perfect for dipping with our sweet and tangy Signature Sauce."
You can enjoy your Buttermilk Crispy Tenders with one of McDonald's delicious dipping sauces that include the classic Creamy Ranch, Hot Mustard, Sriracha Mac Sauce, or the new Signature Sauce. McDonald's Signature Sauce is so good, it has loyal customers obsauced (a word McDonald's came up with to describe just how much people love the new sauce). Naturally, lovers of the new and improved chicken tenders have taken to Twitter to express just how excited they are about this long-awaited come back.
"Def gotta try these tbh this signature sauce better than Mac sauce."
Whoa, that's a pretty serious statement. Now I have to try that Signature Sauce.
"There back? YAY! I can't wait to get those"
"And @McDonalds said, 'Let there be chicken tenders,' and there was #ButtermilkCrispyTenders. Solely ordering chicken tenders from now on."
"THE CHICKEN SELECTS ARE BACK AT MCDONALDS!!!!!! They just call them buttermilk crispy tenders.. BUT IM SO EXCITED"
"SOS THIS IS NOT A TEST. MCDONALDS NOW HAS CHICKEN TENDERS"
If you are as excited about a new sauce and new menu item as the people above, brace yourself, because McDonald's has partnered with Delicious Design League to create a series of posters that shows the essence of the nine popular McDonald's sauces. See the awesome posters below.
Dang, those posters are pretty cool. Billy Baumann, co-owner of Delicious Design League, describes the posters as "eye-popping" saying:
Limited edition, illustrated, screen-printed posters have really taken off in recent years, expanding from music to TV, movies, games, and now... McDonald's sauces. They're a collectible way for fans to express their unique fandom. When creating these posters, we approached them as we would any intellectual property -- trying to capture the feeling and defining characteristics of each sauce in one eye-popping visual.
You can score one of these limited-edition posters at participating McDonald's locations starting Saturday, Oct. 7 at 2 p.m. while supplies last. They will also be giving away stickers with the same design, once the posters run out.
Thank you McDonald's for bringing back the menu item so many people love. You guys should consider bringing back your popular Szechuan Sauce too!
Check out the entire Gen Why series and other videos on Facebook and the Bustle app across Apple TV, Roku, and Amazon Fire TV.