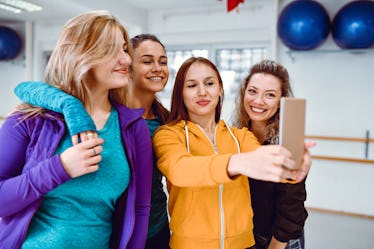 Take These Cute Insta Pics In Your Favorite Sorority Sweatshirts & Swag
AleksandarGeorgiev/E+/Getty Images
On any given day, you can be found wearing swag from your sorority. If it's fall, then you're probably rocking a colorful crewneck with a clever phrase or your letters on the front. But, as much as you wear these cute items in your closet, you wish more people could see them. Guess what? These Instagram pictures to take in sorority sweatshirts and swag are your solution, and they'll look stunning on your feed.
To take them, you just need to grab a camera, a tripod (or a pile of your books that can act as a tripod), and a quality light source like the sun or a lamp that's sitting on your desk. From there, you'll want to study each of these picture ideas and see how they're composed. Some will require you to grab the sweet sister you live with, and give them a loving hug in front of the lens. Others will require you to hold up your letters in the air and then write a heartfelt caption about what you love the most about your sorority.
When it comes to editing these pics, you can get as creative as you want really. You don't necessarily have to go all-out with a vintage frame or a stop motion effect. Like anything else on social media, you should stick to what feels good to you. Without further ado, here are seven ideas for pics you can take in your sorority sweatshirts and colorful swag.