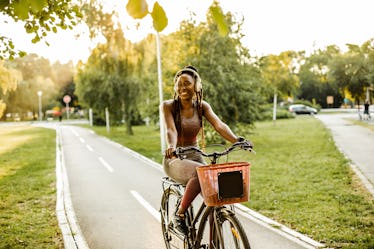 Take These IG Pics On Your Bike When You're Hitting The Trails With Your BFFs
blackCAT/E+/Getty Images
You might have treated yourself to a fresh set of wheels this summer, and now, you can't stop talking about all the trails you've explored. There was the picturesque paved one that crossed over a river and the boardwalk by the beach where you went for a ride at sunset with your SO. It's about time you posted about your favorite activity on social media, using inspo from these Instagram ideas for pictures on your bike.
It's always worth sharing what you love on the 'gram. Your college besties can stay up-to-date on what makes you smile, and your followers can add to your good vibes. If you post a selfie with the bell on your handlebars, a close-up of a basket filled with flowers sitting next to your front tire, or a rad shot with your bike at the skatepark, it'll be wheelie cool and you're bound to get some comments like, "How fun!" and "Can I come with you next time?"
Everybody will want to join in on the fun from their little corners of the world. Long story short: Tap the breaks, pull over to a curb, and snap a few pictures that follow the guidelines in these pic ideas. Upload them on your Instagram feed once you get home from your adventure.