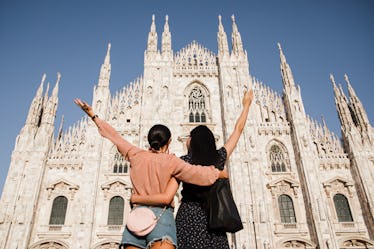 These Holiday Travel Apps Will Let You Jingle Around The World
Shutterstock
No matter where you're heading to, traveling can be particularly chaotic throughout the holiday season. But if you have some of the best holiday travel apps downloaded on your phone, then you can jingle all around the world with hopefully a lot more ease.
In a few hours, you can be prancing through the door at your mom's place or best friend's apartment with presents and good vibes in tow. You can tell them about how you managed to score a well-priced plane ticket via an app on your phone, or found your gate thanks to an interactive map designed for just that. While sipping delicious mugs of hot chocolate and catching up with loved ones, you can even show them the nifty features on your phone and how they can be used no matter where you're jet-setting to.
That's really the beauty of these apps. Whether you're traveling to an international destination or your cozy hometown, they bring on the good vibes and holiday cheer. Get ready to check major items off your bucket list with ease, and merrily hop from charming restaurants to must-see #views. All it takes is having these holiday travel apps downloaded on your phone.