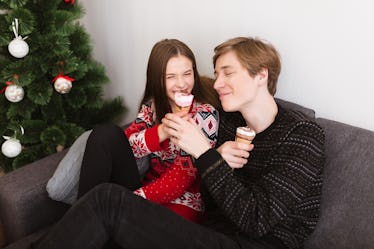 7 Holiday Ice Creams We All Need For A Cozy Netflix Marathon With Bae
As the weather outside gets colder, the idea of cuddling up close to bae sounds like a Christmas dream come true. Who needs a fireplace, anyway? Just imagine picking out your fave holiday movies to stream on Netflix, and getting close under a fuzzy blanket with your SO. That's enough to warm anyone up. All you'll need to make the moment absolutely perfect is a great holiday-themed snack, so thank goodness there's an impressive assortment of holiday ice cream flavors we can choose from.
Although we want to keep warm, a little ice cream never hurt anybody. That's exactly why chillaxing with a scoop or two — or let's be real, four scoops — of a super tasty ice cream is the perfect snack choice for you. There are so many holiday flavors to choose from, that it makes the decision process that much more difficult. I mean, just look at these seven delicious holiday ice creams that are calling your name. It makes perfect sense that you and bae should put them all on your Christmas foodie bucket list. For your next winter movie night when you're all snuggled up tight, don't forget to fix two bowls of some holiday ice cream.