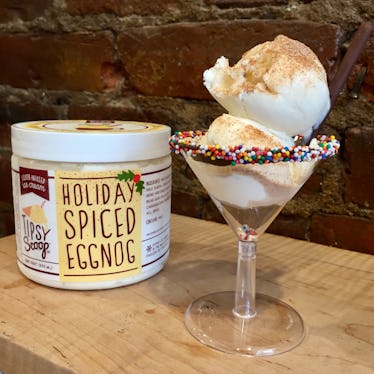 These Boozy Holiday Ice Cream Flavors Will Make Your Christmas Party Extra Sweet
Rachel Chitwood /Tipsy Scoop
Cue "All I Want For Christmas Is You" — the holiday season is officially upon us. Well, November is close enough, anyway. To mark the occasion, start by taking a taste of something sweet, like Tipsy Scoop's boozy holiday ice cream flavors.
Melissa Tavss, the genius behind New York City's "barlour," has gifted hungry customers with the best of both worlds: a little bit of ice cream and a hint of liquor. Visitors are treated to flavors such as Strawberry Rhubarb Bourbon and Dark Chocolate Whiskey Salted Caramel, but with the holidays looming, it's time to make Santa proud.
"We are really excited for the holiday flavors because they combine favorite holiday classics (cookies, candy canes, gingerbread cookies, etc) with classic holiday cocktails," Tavss tells Elite Daily.
Your taste buds will get the Christmas treatment with the following options, so definitely pay a visit to Tipsy Scoop this season.
These are bound to be great stocking stuffers this year (well, freezer stuffers for the sake of keeping them from melting). "People don't often think of sending ice cream as a gift, but we pack in dry ice in insulated coolers so that the ice cream arrives frozen directly to your door," Tavss adds. With that in mind, start things off this year with a taste of the Candy Cane Vodka Martini, which comes equipped with candy cane-flavored vodka and sprinklings of peppermint. You'll hold candy canes to a very high standard after indulging in this ice cream.
Obviously, the man in the red suit is going to want in on this fun, and you can't really blame him. Treat him (and yourself) to Whiskey-infused ice cream blended with cookie crumbles in the Santa's Whiskey and Cookies flavor. How much you want to bet that Santa will leave an extra something if you present him with these instead of your usual chocolate chip cookies? You're going to be the favorite house along his route.
When you're done worrying about Jolly 'Ol Saint Nick, give the Drunken Gingerbread Man a go. This ice cream includes vanilla vodka and coffee liqueur, so clearly, it's not one to miss. Your favorite creamy holiday cocktail is getting a spin thanks to Spiced Eggnog, which includes Brandy-infused ice cream spiced with nutmeg and cinnamon. It's the best of fall and winter, all in a bowl.
Let's not forget about your favorite holiday dessert. Brown sugar rests atop of Banana ice cream infused that's infused with spiced rum and creme de banana in the Boozy Bananas Foster flavor. Thanks to these bad boys, you're going to be the hit of the holiday season — no one is going to miss your get-together.
If you're really one to plan ahead, then you're going to want to reserve a pint of Blood Orange Champagne Sparkler for New Year's Eve. The dairy-free sorbet is definitely something you'll want when the clock strikes midnight on Dec. 31. It's just as sweet as the 12 o'clock kiss.
If these flavors are already making you count down the days 'till Dec. 25, buy a pint for $12 or a set of six for $72 — your guests will thank you.
Tavvs loves getting into the holiday spirit, and she certainly wasn't going to let her beloved business miss out on the celebration. "The holidays are obviously all about indulgence — and that's what we are all about at Tipsy Scoop," Tavss tells us. "We love the idea of continuing in holiday traditions and the nostalgia that comes along with that, but giving it a grown-up twist."
Customers also have a lot of fun to look forward to: a chance to relive the summer thanks to Tavss bringing back those seasonal treats, a collaboration with Pop bar, and the chance to really up your Insta game with the Toasted Snowman, which includes snowcaps, cherry gummies, cherries, berry candies, and chocolate poky sticks
According to ice cream connoisseur, Tipsy Scoop creates "a different type of experience," so why not make this time of year extra memorable? Not only do the scoops guarantee an out-of-this-world taste, but they're totally Instagramable as well (which obviously speaks volumes for millennials). Have you been convinced yet?
Not in New York? No problem, head to Tipsy Scoop's website to see where you can ship a pint of the boozy ice cream. The sweet snacks are also available in-store and for nationwide shipping via Goldbely.com.
Happy holidays! It's time to eat, drink, and be merry.
Check out the entire Gen Why series and other videos on Facebook and the Bustle app across Apple TV, Roku, and Amazon Fire TV.