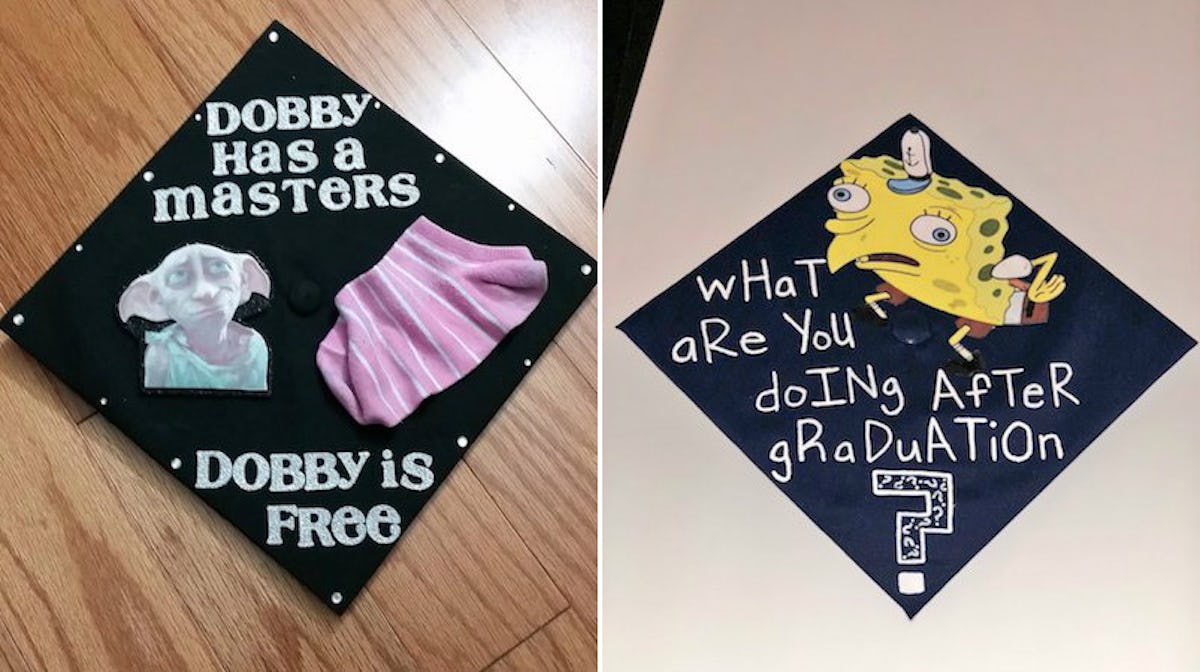 These Hilarious Graduation Caps Will Make You Forget How Scary Post-Grad Life's Gonna Be
Twitter
The entire experience of graduation is completely surreal, to say the least. Yes, it's boring AF to sit in that flimsy fold-up chair beneath the beating-hot sun for an hour (at least) while you wait for your name to be called, but it's still pretty entertaining to be part of the whole celebration. You get to low-key chuckle every time someone's last name is mispronounced, and you can catch a glimpse of all of the carefully crafted, witty, inspirational, artsy, and hilarious graduation caps that your fellow grads have put their heart and soul into. Fun times, people. Fun times.
In all seriousness, though, graduation is such a huge milestone, and when you finally find yourself walking onto that stage to receive your degree, it can be completely overwhelming. I mean, how the hell did you even get here after enduring all of those late-night papers, the hours of procrastination, the countless shots of espresso, and the incredibly frustrating group projects? TBH, you might feel like you deserve about seven degrees for all of your hard work these past four years, but you'll settle on one because you don't want to make a scene, you know?
All in all, graduating from college is one of the best experiences you'll have in life, and customizing your graduation cap is, IMHO, the most genuinely enjoyable part of the entire thing, because (pretty much) anything is fair game, and you can express your creativity to the absolute fullest. These seven Twitter users and their epic graduation caps prove you should never take anything too seriously in life, even when it comes to an event as significant and momentous as graduation. Trust me, you won't be able to stop LOLing at these hysterical graduation caps.