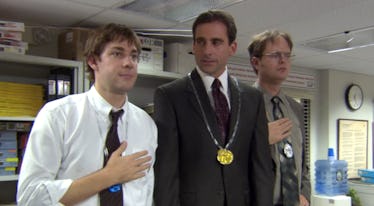 9 Fun Facts About 'The Office' To Tell Your Co-Workers At The Water Cooler
NBC
If you've watched The Office, then chances are you have also rewatched The Office several times. The beloved workplace sitcom is one of the most binge-able shows there is, which means that obsessive fans have seen every episode countless times. But still, even if you have rewatched all nine season of the show a million times, there are still some secrets about The Office that would surprise you. Get the real scoop on the Dunder Mifflin team right here.
Before getting into some more general facts about The Office as a whole, let's talk about the cast that almost was. The main characters of The Office have become pretty much synonymous with the actors that portray them to fans of the series — can you even imagine anyone other than Steve Carell as Michael Scott, or John Krasinski as Jim Halpert? But actually, a ton of famous actors and comedians were up for the now iconic roles of Dunder Mifflin's employees. Check out this list of actors that auditioned for main roles, and try to imagine how different the series would have been if the casting went in a slightly different direction:
1. Jim Halpert was almost played by Adam Scott, John Cho, or Hamish Linklater.
Although he missed out on a part in The Office, Adam Scott went on to star in Greg Daniels and Mike Schur's followup hit sitcom Parks & Recreation.
2. Michael Scott was almost played by Paul Giamatti, Martin Short, Bob Odenkirk, Alan Tudyk, Hank Azaria, Ben Falcone, or Rainn Wilson.
That's right — before he landed the part of Dwight Schrute, Rainn Wilson actually auditioned to play Michael Scott.
3. Dwight Schrute was almost played by Seth Rogen, Matt Walsh, or Matt Besser.
The show's producers actually asked John Krasinski to read for Dwight when he auditioned, but Krasinski insisted that he only be considered for the role of Jim.
4. Pam Beesly was almost played by Kathryn Hahn, Mary Lynn Rajskub, or Angela Kinsey.
Before getting the part of Angela, Angela Kinsey actually auditioned to play Pam. You can check out some of these auditions in the video below:
It's crazy to think of how different The Office might have been if the casting directors made alternate decisions. Now let's talk about some more secrets that helped make The Office the show that won over the hearts of fans everywhere.
5. All of the original writing staff had parts in the show.
The original five members of The Office writing staff pulled double duty by also starring or cameoing on the series. Mindy Kaling played Kelly Kapoor, B.J. Novak played Ryan Howard, Paul Lieberstein played Toby Flenderson, Mike Schur played Mose Schrute, and creator Greg Daniels actually had a cameo as Michael Scott's neighbor in a Season 2 episode, but his scenes were cut.
6. Michael's kissing Oscar in the Season 3 premiere was improvised.
Steve Carell was only meant to hug Oscar in the scene, and when he went for the kiss you can actually see B.J. Novak and Jenna Fischer's surprise.
7. There were lots of spinoffs that never happened...
Given how many popular characters The Office had, it's no wonder that NBC considered a few spinoff ideas. Dwight Schrute was going to get a spinoff called The Farm and an Andy Bernard spinoff was also considered, but neither wound up happening.
8. ...And one that (kinda) did.
It's not a coincidence that Parks & Recreation is so often compared to The Office — it was originally meant to be a spinoff series! Parks came from the same producers as The Office, and was intended to exist in the same universe as Dunder Mifflin... until Rashida Jones got cast. Since Jones also had a part on The Office, Parks had to officially end from its spinoff status.
9. John Krasinski shot the opening credits footage himself.
The now-iconic video footage of Scranton, Pennsylvania that ran during the opening credits was actually filmed by John Krasinski, when he took a trip to Scranton after being cast as Jim to interview actual paper company employees there.