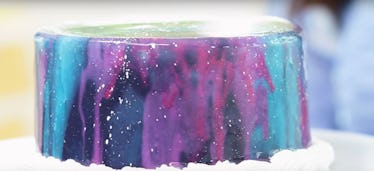 These Galaxy Cakes Will Make Your Moon Party Out Of This World
If you were worried at all that 2018 wasn't going to be an epic year, you can basically show all those worries the door right now. The New Year has definitely come to slay, and it is not holding back. In fact, it's bringing in something super rad that we haven't experienced in over 150 years — the Super Blue Blood Moon. If you're scratching your head, wondering WTF a Super Blue Blood Moon is, trust us when we say you'll want to be throwing an epic moon watching party just for this occasion, complete with galaxy cake ideas.
On Jan. 31, we will be seeing our second full moon of the month — after that awesome Wolf Moon on New Year's Day — that just so happens to be a total lunar eclipse as well. That's how you get a Super Blue Blood Moon, and it's so rare that you definitely do not want to miss it. Plus, any excuse to eat some cake is good enough for me, so why not throw a party in honor of our great moon? To fit the celestial theme of the evening, you should consider any of these seven galaxy cake recipes. A Super Blue Blood Moon doesn't happen everyday, and we may be waiting quite some time for the next one, so this is your chance to throw a party that is totally out of this world.