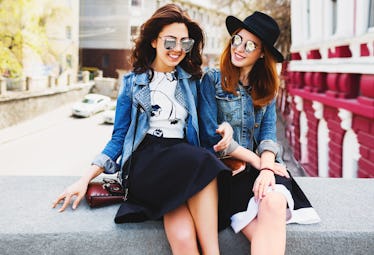 7 Fun Things To Do With Your Maid Of Honor ASAP For Necessary Bonding Time
Shutterstock
When you're in wedding planning mode, it can be incredibly time-consuming. You've asked your bestie to help you out by being your maid of honor. But, you're both so tied up in wedding and bachelorette party emails, texts, and Pinterest boards, you might not have a lot of free time to spend together before the big day. That's when it's a good idea to drop everything you're doing and have a BFF date. When it's last-minute, you might need some ideas of fun things to do with your maid of honor ASAP.
There are two things I know for certain: Everyone needs a "treat yourself" day every once in a while, and best friend hangs are necessary as often as possible. That's why I'm telling you to put a MOH hangout on the books right now. There's no need to plan anything extravagant. I'll take over any planning duties for you. Just call up your bestie and pitch any of these seven fun things to do.
Let's get real, though, you're down to chill at home with your BFF doing absolutely nothing but talking (and maybe putting on some face masks). I'm just here to give you some fresh ideas that can become new favorite memories, and potentially help out with the wedding.