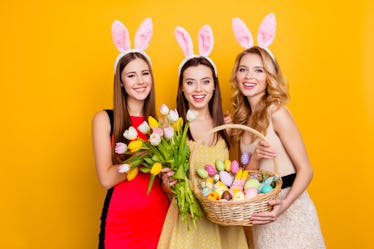 These Easter Weekend Activities With Your Girls Will Make Your 'Gram Oh-So-Pastel
Bring on the pastel-colored sundresses, matching hats, Easter egg hunts, Cadbury creme eggs, and lots of chocolate. As a kid, I used to really look forward to Easter because it meant tie-dyeing eggs with my sis, getting a massive basket overflowing with candy, and dressing up in a pretty dress. Like most holidays, Easter comes and goes within the blink of an eye. This year, I'm going to make the most of it and celebrate like the good ole days. If you're feeling super nostalgic as well, there are some fun Easter activities to do with your girl crew this weekend.
Who said Easter egg hunts were reserved just for kids? There's no age limit on fun. Plus, a chocolate bunny is for everyone. Pretty much any Easter activity you did when you were little can totally be updated for some serious adult fun with your squad when you're in your 20s. Easter doesn't have to simply come and go. You and your friends will love having an egg-cellent Easter party once more.
So, it's time to break out that pretty floral sundress and sun hat you've been dying to wear, and start planning out these seven Easter activities with your favorite peeps.