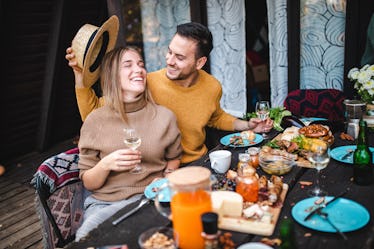 These Are The Best Fall Staycations At Home That You & Your Boo Won't Want To Leaf
Kosamtu/E+/Getty Images
Fall is officially here, but it's feeling a little different this time around. Instead of planning a massive fall reunion trip with friends or traveling overseas with your SO, you're searching for fall 2020 staycation ideas at home as a solid alternative. Even if you aren't "traveling" anywhere, that doesn't mean you can't have a wanderlust-filled adventure with pumpkins, fall leaves, and crisp sweater weather galore.
Everything you love about this season can be enjoyed from the comforts of your own home. Since autumn is all about wrapping yourself up in blanket, sippin' chai tea lattes, and wearing oversized hoodies, you definitely don't mind keeping things cozy. Plus, you can save money by working with what you already have. If you're sold, you might want to start planning any of these seven fall staycation ideas.
They range from romantic spa weekends with your partner to hilarious fall festivals that you'll remember forever. Vacation in style with a homemade bed and breakfast inside or a rustic chic glamping adventure outside. Get lost in a hay bale maze or challenge yourself to nail down all the pumpkin recipes. Whatever you're looking for, you're sure to find it without having to leaf at all.