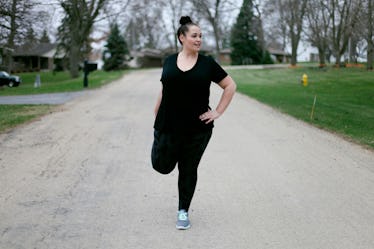 7 Exercises To Do Before Work That'll Melt Your Stress Away First Thing In The Morning
Sometimes I think that if I followed all the suggestions I get for keeping my stress and anxiety at bay, I wouldn't be able to go to school or hold a job. But exercise is one such suggestion I really make an effort to fit into my days, because the impact it has on my mental health is pretty undeniably profound. Because I don't always have the time or energy to spare an hour for a workout, I've luckily figured out some exercises to do before work that allow me to release tension and let go of any stress that may be trying to ruin the beginning of my day. The difference, my friends, is palpable.
By the way, let me make it clear that I am not the type who wakes up light on their feet and ready to pound the pavement at 6 a.m. sharp. I've yet to become a bona fide morning person — which means peeling myself out of bed and squeezing in a short workout in the comfort of my own bedroom is often a task in and of itself.
But worry not, because according to the American Association of Anxiety and Depression, studies show you can get the same positive psychological benefits from just 10 minutes of walking as you can a 45-minute workout.
So give these quick, but powerful exercises a try before you leave your house to go to work if you feel like you could use a little de-stressing before your morning commute.