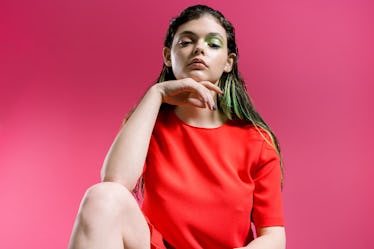 If You're Feeling Bored & Lazy, These 7 Easy Things Will Definitely Do The Trick
Javier Díez, Stocksy
Let's be honest: The world is so beautiful and wide. There are always sandy beaches you haven't been to, people you haven't met, and amazing cups of coffee you haven't sipped. There are trips on your bucket list that are desperately wanting to be planned, and passport stamps you've pinky promised your bestie you'll get. But on an average weekend, when you're hanging at home and feelin' lazy AF, it's easy to feel, well, a little bored. It's easy to look around and think, "Ugh. What am I going to do today?" I have a few ideas — some easy things to do when you're bored, but don't really want to do much.
Do you want all of the details? Of course! First, though, you want to grab an oversized blanket and your favorite crewneck sweatshirt, and snuggle up. You want to track down your pup who's always down to take a nap or watch a movie with you, and put on an episode of Friends in the background. You also want to pull your laptop out of your backpack and into your bed.
Truth is, normally when you're bored, you might just online shop and fill your cart up to the brim, or aimlessly scroll through Instagram. You watch travel vlogs and save new recipes to try. Every once in a while, you might mess around with your makeup and read a good book, too. Can I suggest these seven things for when you're feeling bored and lazy?