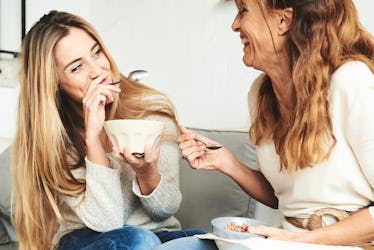 These Easy Mother's Day Recipes Are Impressive AF If You're Making Brunch At Home
Your mom is a queen, and with Mother's Day right around the corner, it's time to think of the ways to celebrate her royal highness. Finding the right gift can be a bit of a challenge if you're on a tight budget, so instead, consider preparing Mom a delicious home-cooked meal. Breakfast in bed is a great way to tell your hardworking mom to just sit back, relax, and enjoy as you provide some tasty food to eat. Even if you're not a pro chef, there are some easy meals to cook your mom for Mother's Day that she will absolutely love.
I will admit, I'm not a cook at all. The best I can do is maybe some pancakes from a box, but these seven recipes on YouTube are actually simple enough that any novice chef, like me, can master. When I was growing up, breakfast in bed was a tradition in my family. The goal was to make our mom feel totally pampered, and it was the least we could do. Mothers work so hard for us every day, so not only will yours love a home-cooked meal, but she'll appreciate the effort you put into making her day special. Showing you care is all that counts, but you know she won't deny a tasty AF brunch.