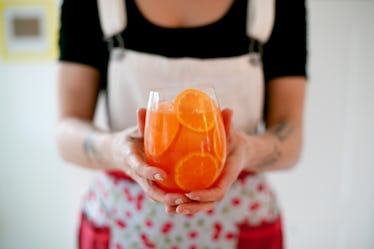 The Best Mother's Day Cocktails To Toast To Your Bestie Since Day One
Sometimes, the best way to celebrate Mother's Day is by doing something sweet and casual for Mom at home. Whether that means starting off the morning with an intimate brunch at your place, planning an afternoon picnic in the backyard, or having a toast in the kitchen before your lunch reservations, your day will be complete with a few key touches. That means having a fresh flower bouquet and a few cocktail recipes ready to go for your day one. We're talking the upgraded version of bringing Mom breakfast in bed when you were a kid. You'll need creative ideas for Mother's Day cocktails that'll put a smile on Mom's face, and I have you covered.
If you think about it, making cocktails for Mother's Day is really the perfect activity. You can get Mom involved in the kitchen, or make it a surprise with your siblings. I'm thinking a DIY cocktail bar on the patio is the way to go. Don't you agree? Imagine the look on her face!
These seven drink options are total crowd pleasers. Who can say no to a refreshing, sparkling cocktail on a sunny day? It'll be difficult to pick just one, so if you can't decide, give all of them a try.