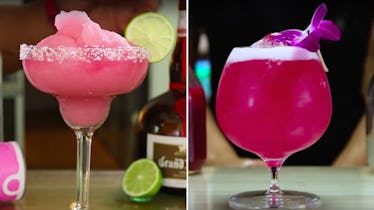 Make These Millennial Pink Drinks At Home For The Most Extra Pool Party
Summertime is party time. There's no limit to the outdoor fun you can plan with friends, and sunny days create the greatest of vibes. It's prime time to soak up some vitamin D. If you're lucky enough to have a pool in your backyard, it's pretty much your responsibility to host a few pool parties with friends, and whip up a little more than a few millennial pink drinks.
I know, it sounds super extra. But an epic start to summer calls for a little bit of extra. It's a season to be extra with your sunglasses (the bigger the better), extra with attitude (those Instagram captions should be on point), and really extra with the summer pool party drinks you choose to serve. Millennial pink drinks are so perfect to serve at your pool party: They're cute, chill, and guaranteed to make a splash. Your guests will love every one of them because they will taste so divine and will brighten up their Instagram in so many ways.
Whether you prefer your drinks frozen, iced, or refreshing and boozy (for my over-21 gals), these millennial pink drinks can help you out. These six recipes will be a prime choice for your bar menu, and you will want to make one to quench your thirst ASAP.