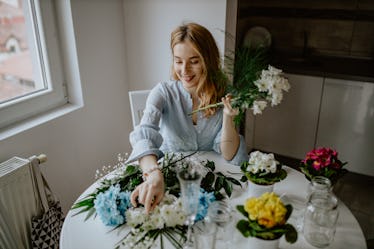 7 Floral Crafts You Can Make Fresh From Your Backyard Gardenia
cream_ph/E+/Getty Images
If you have a garden bursting with flowers and herbs, it's thyme to get a little crafty. Especially if you enjoy DIY crafts with real flowers, you must be in love with the cottagecore trend that's appearing all over Instagram and TikTok. Your garden presents the perfect opportunity to embrace that dreamy lifestyle by making some gorgeous decor for your own home.
Dried and pressed flowers arranged and matted in a picture frame always works for colorful art on your walls. But there are so many other ways to decorate with the blooms in your backyard. For instance, you can create flower coasters to use on your next wine night with your besties (if you're 21 or up), and prepare some scrumptious edible flower cookies for a date night surprise as well. Give that bouquet your SO gave you for a special occasion a beautiful re-purpose by putting together a bowl of everlasting potpourri. Not only will it give your home a fresh scent, but you can also pair it with some cut flowers of a sentimental card they gave you for unique pics on Instagram.
All you need to do to get started is to choose some of your favorite blooms from your garden, and decide on any of these seven real flower DIY crafts that you want to bring into your home. Try one or try them all for a fun-filled daisy at home.