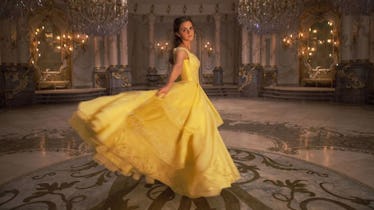 7 Wedding Ideas Inspired By 'Beauty & The Beast' That'll Ring A Belle
Laurie Sparham / Disney Enterprises
Every Disney fan knows that when it comes to old-school romance, Beauty and the Beast is basically the be-all and end-all fairytale (go ahead — fight me on that). It's a tale that's old as time, and also has it all, including sensational music that's sure to tug on your heartstrings, and a powerful message about not judging a book by its cover. Luckily, there are a plethora of Disney wedding ideas inspired by Beauty and the Beast. Because obvi, this fairytale provides the perfect theme when you're saying your "I do's."
So, it may not be realistic for you to tie the knot in an epic gothic castle. And I think it's safe to say you won't be able to snag a talking teacup for the reception, either. But that doesn't mean you can't pay homage to the film in other ways. Between stunning centerpieces that evoke the same aesthetic as the film to decor that reflects certain characters or themes from the film, there are so many ways to incorporate some fairytale romance into your own big day. Because let's be honest — Belle and the Beast taught each other important lessons, and they forged a meaningful bond that was the total opposite of superficial.
So, seeking your own happily ever after? Consider these charming wedding ideas inspired by this classic love story.