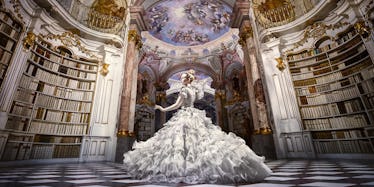 Real-Life 'Beauty And The Beast' Library Is Breathtakingly Beautiful (Photos)
Benjamin Von Wong
If there's one thing everyone knows about Belle from "Beauty and the Beast," it's that the Disney princess was a total bookworm.
Therefore, it's not surprising she is simply awestruck when the Beast reveals his magnificent library to her in this classic Disney movie.
But if you thought magically ornate libraries like this only existed in fairytales, you may be surprised to know there is a real-life version of this elaborate book haven in Austria. Known as the Admont Abbey, it is the oldest, not to mention most beautiful, monastic library in the world, and it's home to over 70,000 books.
Recently, photographer Benjamin Von Wong, set out to recreate a surreal fairytale photoshoot in the beautiful book-brimming space.
With the help of his team, Von Wong was able to capture a series of images reminiscent of the Disney princess Belle surrounded by her beloved books.
According to Von Wong,
Growing up, Beauty and the Beast had been one of my favourite films from Disney. I had watched it countless times as a child, and never once, did I imagine that I would find myself inside a fairytale myself, creating a Disney princess of my own surrounded by priceless frescos adorning the ceilings, marble floors beneath my feet and the soft musty smell of old books.
The results of his photoshoot are simply stunning to say the least, and his visual series will make you feel like you've just stepped out of reality and into a magical castle in a distant land.
Behold, the Admont Abbey.
This ornate library is breathtakingly beautiful.
And it looks like the real-life version of the library from "Beauty and the Beast."
This colossal library is home to over 70,000 books.
It's the perfect place for a fairytale photoshoot.
Models are turned into magical princesses inspired by Belle.
The Von Wong team worked hard to capture these stunning images.
But they still made time for a little fun along the way.
Citations: I Did a Photoshoot In A Real Life Disney Library (Bored Panda )