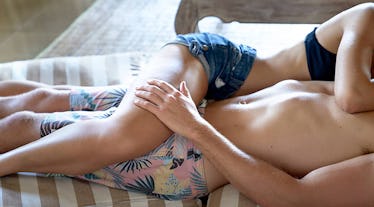 7 Brutally Honest Phases Of Going On Summer Vacation With Your Partner, So Get Ready
No matter how long you've been dating your partner, there are almost always relationship "things" that will be a struggle. Your first fight, meeting the parents, and your first trip together are all major relationship milestones, but the thing is, they aren't all easy. Your first fight will be a thing, but so will your first trip. So, these brutally honest phases of going on summer vacation with your partner are definitely things that you need to know, because it isn't all laughter and hot sex.
But, you know, there's that too.
Really, though, going on a summer vacation with your boo is super exciting. Whether you're going for a weekend, a week, or even longer, getting out of town with your partner is certainly a special experience. Hotel room sex? I mean, come on. It doesn't get any hotter. The thing is, though, going on a trip with your partner will also include some drama, probably. Like, if there isn't any drama, then I'm sorry but who are you and what planet did you come from?
If you live with your partner before you go on your summer vacation, then maybe some of these brutal phases won't be as brutal, but vacations are different, and your relationship might very well change after.