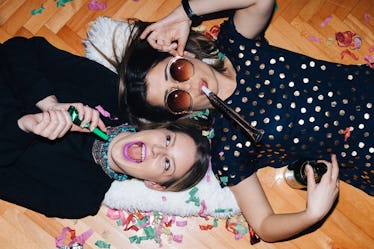 7 Birthday Traditions To Start With Your Sister ASAP That Truly Take The Cake
It's the most wonderful time of the year. No, I'm not talking about Christmas — I'm talking about your birthday. Everyone has one, and everyone should get hyped about celebrating it to the nines. It's not just about getting another year older; it's your time to take a moment and shine that much-deserved spotlight on yourself. You have graced this Earth with your presence, and your birthday truly is a present for everyone. Of course, you have to spend your day with the people you love the most in this world. That's why there are some birthday traditions to start with your sister, and continue them forever.
You and your sis might have birthdays not far apart from each other, or you may even share the same birthday. Regardless, it's time to start some special traditions just for you two that goes beyond the birthday cakes, candles, and sentimental cards. These seven birthday traditions are unique and special ways that you two can party and celebrate in the most sisterly way possible.
You're thankful your sister was born, because it meant growing up with a best friend by your side. So, celebrating her birthday is a celebration for you as well. Blow out those candles, make your wish, and hope for the best year to come.