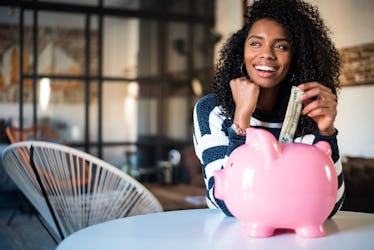 7 Things Every Millennial Should Save Up For Now, That You'll Enjoy In The Next Decade
If you've ever spent several minutes staring at your bank account, followed by endless number crunching, you've likely reached that point in your 20s when you're ready to get financially savvy. No one really warns you about how tempting swiping your very first credit card can be, and how the sense of independence you feel in adulthood can cause you to spend more than you really should. When you're ready to start saving up, the first thing you need to do is set a few goals, like some of the best things to save up for in your 20s.
When you're striving to reach a goal, it can make the hard work to get there a whole lot easier. I'm not saying it's a piece of cake — believe me, I know first-hand that the struggle is real. Setting a budget for yourself each week can be close to impossible when all you really want to do is treat yourself to chai tea lattes every morning, and hit up happy hour with the squad after work. Although, these seven dream items are things that are worth the savings struggle. Giving up a few lattes a week will result in making a few future goals come true. In my opinion, that's the true definition of living your best life in your 20s.