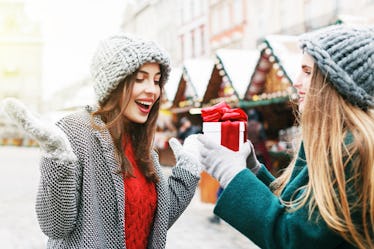 7 Best Holiday Gifts For "Your Person" That'll Put A Smile On Her Face
It can be just as hard as it is easy to shop for your BFF, aka "your person," once the holiday season rolls around. Just like Cristina Yang to your Meredith Grey from Grey's Anatomy, you ladies are two peas in a pod. You want to get her everything, and yet, you may not have the budget to buy her the world she deserves. It might be a serious struggle trying to find that one amazing gift that is totally worthy of your bestie. You know she'll love whatever you get her, but you're putting the pressure on yourself to get her an epic present she'll genuinely cherish. When you're totally blanking, you may be in need of some best gifts for "your person" to inspire you.
We've rounded up eight gift ideas that your BFF will immediately fall in love with. They range from food, to makeup, to treat yo' self essentials. These gifts are great for any friend, but most of them you can totally personalize to fit your unique friendship. I would want everything on this list, so I know my person would be super excited to get them as well.
They say it's not the gift that matters, but the giving. Obviously, those people never received an awesome gift like the ones below, or else they'd be singing a different tune. We know "your person" will love the thought over anything, but you can't go wrong with any of these choices.