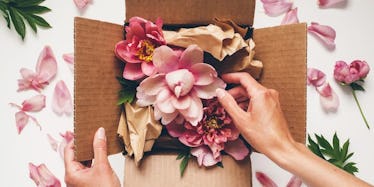 9 Instagram-Worthy Gifts To Send Your Long-Distance BFF On Her Birthday
When the PB to your J lives across the country, the struggle can be all too real.
You may have locked down your forever friend on the playground in first grade, or maybe you bonded over how drab your history professor was in college.
Either way, you always went together like PB&J.
Whether she moved away for her job or packed up to be with her significant other, it doesn't suck any less you're not able to watch "The Bachelor" together on Mondays.
You miss Wine Wednesdays with your main gal pal. You miss ordering cheesy bread at 3 am with her (and regretting it together later that afternoon).
Sure, you text, Skype and talk on the phone all the time, but you can't help but miss having her there in person on a weekly basis.
And when birthdays roll around, it may get even tougher for either one of you to make that trip as the years go by.
If you're not able to party hard all night long with your long-distance BFF on her birthday, here are nine easy gifts you can send to her to show her you're there in spirit:
What's better than the blissful aroma of home sweet home?
This is a really sweet option if she's feeling homesick and missing you as much as you miss her.
2. A Greetabl Gift Box
This adorable, personalized gift service takes greeting cards to the next level. You can craft the kind of gift box you want to send to your bestie, no matter whether she loves Sugarfina treats or is a sucker for all things having to do with bubble baths.
The next step is to create the card, which actually folds into the gift box itself. Choose pictures of the two of you, along with the birthday message of your choice.
It comes complete with the states you're both living in, with a trail connecting the two hearts.
She'll definitely say "AWE" to this one.
4. Something Sweet
Are these "I MISS YOUR FACE" chocolates not the real MVPs, or what?
5. This Wine Glass, Along With A Bottle Of Her Favorite Wine
Now, you can feel like the two of you are together while you're bawling your eyes out to "The Notebook."
6. This Wood Sign Declaring Your Friendship
She can hang it in her apartment as a daily reminder of your friendship.
It's super chic!
If your friend is obsessed with makeup and beauty products, sign up for a three or six-month subscription, so she can have a nice surprise dropped off at her door each month.
8. Hair Extensions
This is ideal for the fabulous, beauty queen friend. They come in the cutest box, too.
9. Chocolate-Covered Strawberries
Because let's be real: What gal wouldn't love being sent chocolate strawberries on her birthday? They'll make her special day extra sweet.
Show your bestie you're thinking of her on her special day by sending her something unique that'll make her smile... even if you can't be with her in person.