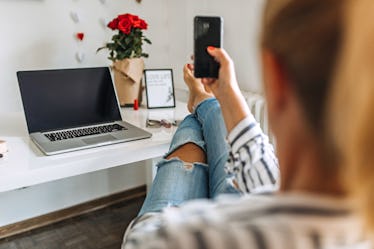 You'll Fall For These 'Bachelorette'-Inspired Party Games This Halloween
supersizer/E+/Getty Images
It's time to kick off the journey of planning your virtual Halloween party. We have ideas that are so fantasy sweet, that everyone in your group will want to give you a final rose afterwards. For example, what if you made cookies shaped like champagne bottles and added some of these Bachelorette-inspired party games to play on Halloween to your itinerary?
Full disclosure: After splitting up into teams and getting into each round, you may feel like you're on a group date. But, you'll also have the chance to prove your Bachelor Nation knowledge, and accept a few roses. You'll get to pretend you're emerging from a limo on night one, and receive advice on whether your pick-up line, sloth costume, or awkward hand squeeze was flirty or flop-worthy. Not to mention, you and your pals will share a ton of laughs along the way, and probably take a few pictures for IG that reflect those of the *actual* contestants. (Just be sure to give Hannah B, Rachel, or Clare credit, OK?)
Now, you won't be playing these games at a beachy resort in Costa Rica, California, or Cancún. However, you'll love spending the spookiest night of the year diving into the most dramatic seasons of The Bachelorette or The Bachelor. Without further ado, here are seven games you can add to your virtual Halloween party's itinerary and play with your pals.