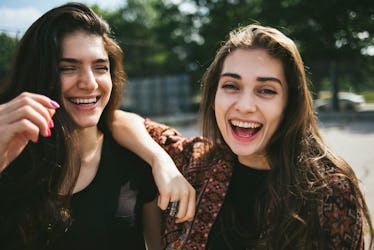 7 Annoying Things Relatives Do That'll Make You & Your Cousin LOL
You love your family with all your heart — you really do — but it's safe to say they can be unbelievably annoying at times. Luckily, you have your cousin as your savior. She can sympathize when those endless relationship questions start coming from your grandma, or your uncle starts telling his not-so-funny "jokes." When your relatives are being kind of, sort of annoying AF, instead of rolling your eyes, you give each other a knowing glance that really makes you want to LOL. Family reunions aren't a total drag anymore, because you have your cousin there to get you through the annoying things relatives do.
It's not that your family is always irritating. You really do love spending time with them. You just have come to expect the same quirks, the same stories being told, and they will always be confused by your generation. You've given up trying to explain to them it's OK that you don't have a SO right now, because you're embracing the single life and your career. So instead, you and your cousin just laugh it off every time your relatives do these seven things.
You truly feel blessed for having a cousin who is also your bestie, but you're most thankful to have someone to pull you through another Thanksgiving dinner or family vacation with some LOLs instead of OMG SOS.