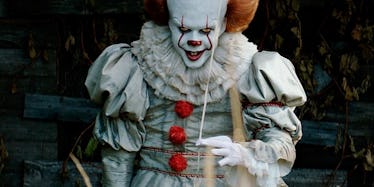 7 2017 Pop Culture Costume Ideas That Are Perfect To Wear This Halloween
WARNER BROS
It's closing in on us: Halloween is coming. Are you ready? While many are putting the tiny finishing touches on their perfect costumes, others are frantically scrambling to even figure out what they want to be. If you're in need of a little inspo, look no further than these 2017 pop culture Halloween costume ideas.
With 2017 three-quarters of the way over (sorry, it's a harsh reality), there's a whole stash of awesome pop culture happenings that you can use for your Halloween costume. Close your eyes and think back on the year and I promise that the perfect costume will just come to you.
Some of these are solo costumes, but others might do better with your whole squad, so there's really something for everyone. What was your favorite pop culture moment of the year? Look to TV shows, movies, and (duh) Beyoncé for a look that can't fail.
Is there any idea fresher than a recent pop culture moment to recreate for Halloween? Check out some of these iconic possibilities, complete with ideas on how to pull it all together because, let's face it, some of us (OK, I admit it... me) are major procrastinators and can use all the help we can get.
1. Beyoncé Has Twins
Purple Kimono Robe, $25, Amazon
Twin Babies, $25, Amazon
Fabric Tulle, $13, Amazon
Let's head straight to the top: the Queen. Beyoncé showed off her twins this year with an epic photo reveal that was anything but ordinary. Get a little crafty and recreate the floral backdrop, then pose with baby dolls while draped in vibrant purple fabric and a blue veil. In a pinch, a floral bathrobe will recreate the look pretty well.
2. Guardians of the Galaxy's Groot
Groot Costume, $26, Amazon
I am Groot. Well, I am Groot for Halloween, anyway. Channel your inner oversized tree branch with a simple Guardians of the Galaxy costume that requires no DIY talent. Bonus points if you say only those three words during the entire party.
3. Pennywise
Pennywise Costume, $60, Spirit Halloween
Pennywise Cosplay Costume, $160, Amazon
Looking for something a little (OK, a lot) scary? Pennywise is your go-to Halloween horror costume. You can do the It clown makeup yourself, but a spooky mask is super simple and epically frightening. Check out some options for pulling together your It costume on the cheap.
4. Stranger Things Kids
Eleven Costume, $50, Spirit Halloween
Dustin Wig, $15, Spirit Halloween
Barb Ruffle Shirt, $35, Spirit Halloween
The Netflix hit Stranger Things returns for its second season right before Halloween, so it's the ideal time to perfect your costume. Whether you're a solo Eleven (don't forget the waffles!) or want to go as the entire Stranger Things squad, these are some of the easiest looks to pull together with any '80s inspired thrift shop finds.
5. Riverdale Gang
Riverdale Cheerleader Outfit, $52, Amazon
Riverdale Varsity Jacket, $53, Amazon
Betty Sweater, $50, Etsy
Jughead Beanie, $10, Etsy
While you could certainly be a solo Betty or Veronica, this costume idea is perfect for a group so that everyone is represented. Bonus: the pieces are super easy to pull together, just keep it in that all-American spirit and you're golden.
6. Game of Thrones
Daenerys Costume, $34, Amazon
Jon Snow Costume, $26, Amazon
White Walker Mask, $51, Target
Whether you want to channel Daenerys, the Mother of Dragons, or Jon Snow, there are plenty of options among the Game of Thrones characters. I'm partial to the White Walker mask, which is creepy AF and about the easiest costume idea ever.
7. Taylor Swift's "Look What You Made Me Do" Video
Fringe Dress (Fearless Tour), $30, Amazon
One Shoulder Gown (2009 VMAs), $275, Amazon
White T-shirt & Markers ("You Belong With Me"), $8, Amazon
It's a one-stop shop of inspiration, with all the T. Swift you can handle, from a zombie, to a bank robber, to all of those old Taylors. Pick a look or grab your friends and make it a squad costume — there's plenty of Taylor to go around!
Which pop culture moment will you create for Halloween?
Check out the entire Gen Why series and other videos on Facebook and the Bustle app across Apple TV, Roku, and Amazon FireTV.