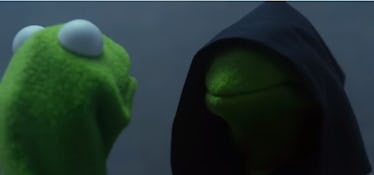 7 Hysterical Halloween Costumes For The Squad That's Totally Obsessed With Memes
Memes are how we get through our boring days and communicate with others. They've literally just become a part of internet culture, and we are so, so here for their hilariously witty nature. Ever hysterically blurt out loud laughing at work and pierced through the silence of the office? It was probably because of a meme you saw, which you no doubt subsequently sent to your group chat as you stifled your giggles. That's why coordinating 2017 meme group Halloween costumes is pretty much necessary if you and your squad live, breathe, and swap memes all the time.
The best part about memes, though, is that they're a lot like wine: They just get better and better as each year passes by. Since we are in 2017 now, you should certainly stay a little more current when you pick your dope meme costume with your crew. These bad boys most likely went viral, so you and your friends can't disappoint when it comes to executing the oh-so-beloved memes we have all grown to know and love. Memes have literally taken over every social media platform we use these days, but we are surely not complaining. It's always entertaining to see the creative and unique memes people come up with. Now, if your head is a jumbled mess from trying to think back on the boatloads of memes you have witnessed over the past year, consider some of these ideas from memes for your group Halloween costume.