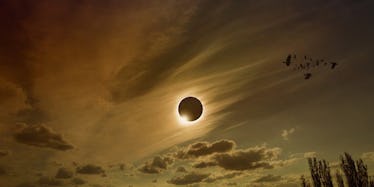 15 Stunning Photos Of The Solar Eclipse That Will Take Your Breath Away
Ig0rZh/Fotolia
I know, I know, you've probably seen the awesome news everywhere, but guess what? The solar eclipse is Monday. Everyone seems to be talking about the 2017 solar eclipse, and for good reason. All over North America, people are gathering in watch parties, science museums, and eclipse tours to view the stunning event. This is kind of a big deal, so get ready to be amazed. Of course, a breathtaking event as such would not be complete without photos of the solar eclipse taking over social media.
The solar eclipse has been described as a life-changing, otherworldly view; something spectacular that not even words can describe. Those who have the opportunity to watch from the path of totality are in for the experience of a lifetime. Apparently, it can be hard to capture the moment on film and do it justice, but luckily, there are some really talented professionals out there who proved that wrong.
If you're at work, sleeping, or just plain old missed your area's chance to peep this amazing sight, don't worry. All over the country, eclipse watchers and chasers were prepped, with their glasses on and cameras out, and they did not disappoint. These 15 photos are absolutely magical. Prepare to have your breath completely taken.
1. This Shot Is So Dreamy, I'm Literally Swooning
2. Can We Talk About This Quality?
3. This Magical Photo Deserves Our Complete Attention
4. I Can Hear The "Ooh"s And "Ahh"s Just By Looking At This Picture
5. The Detail Of The Moon In This Shot Is Giving Me All The Chills
6. A Moment Of Silence Is Necessary To Appreciate The Beauty In This Photo
7. Slay On, Solar Eclipse
8. You Can Feel The Magic Of The Moment In This Photograph
9. How Mesmerizing Is This Breathtaking Photo?
10. I've Never Seen The Moon Look More Stunning
11. This Photo Deserves An Audible Gasp
12. I Don't Think I Will Ever Get Over This Gorgeous Shot
13. Who Knew A Solar Eclipse Could Be This Beautiful?
14. Even If I Didn't See It IRL, I Know This View Was A Life-Changing One
15. If This Photo Isn't Doing The Eclipse Justice, I Can't Imagine What It Must've Looked Like IRL