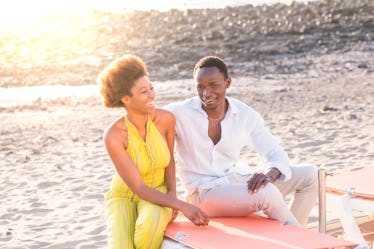 6 Zodiac Signs Compatible For First Dates, But Not The Long Haul
Shutterstock
When you first hit it off with someone, it can be hard not to think about when you're going to see them again. Whether you parted ways with a sweet hug or ended the night by sleeping over (go, you!), a good first date can feel like winning the lottery. Of course, even after a string of amazing early dates, for whatever reason, the connection isn't always there. If you and your date are one of the six zodiac sign pairings compatible for first dates, but not the long haul, astrology may be to blame.
At any stage of dating, something not working out can be a total bummer. Whether you thought your date was going to be around for a while or you were excited to meet someone who really got your sense of humor, realizing you're better off as friends (or as complete strangers that still follow each other on Twitter) can really sting. Still, as my mother always says, "There's a pot for every lid." And just because something didn't work out with an old crush doesn't mean new (and better) love isn't on the horizon.
Here are six zodiac pairings that may not last the test of time.