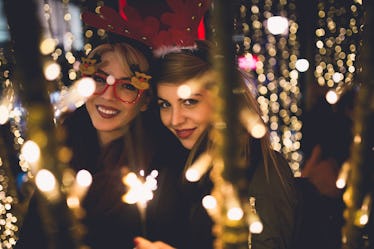 6 Winter Solstice Activities To Ring In The Icy Fun With Your Girl Crew
Winter is coming! No really, it is. The Winter Solstice, aka the first day of winter in the Northern hemisphere, begins on Thursday, Dec. 21 this year. It's also referred to as the shortest day of the year, but don't worry, we're not losing any actual hours in the day. The shortest day just means that the amount of sunlight that day will be the shortest we're going to receive all year. So, most of the day will be dark. The best way to celebrate the start of winter and the shortest day of the year is with your girl crew doing some Winter Solstice activities, of course.
The Winter Solstice is not known for being a big party day. The darkness and cold weather makes The Winter Solstice more of a quiet and reflective day, but that doesn't mean you can't still celebrate with your besties. You can have a chill hang with your favorite crew with activities that incorporate the darkness and weather outside that also ring in the icy fun that comes with winter.
Actually, this year, The Winter Solstice falls on what astrologers are saying will be the worst day of the year. So, you'll definitely need your squad by your side to make it out on top. They say it's going to be the worst, but you can totally make it the best. A group text needs to be sent out ASAP for a Winter Solstice hang with your besties doing any of these six activities.