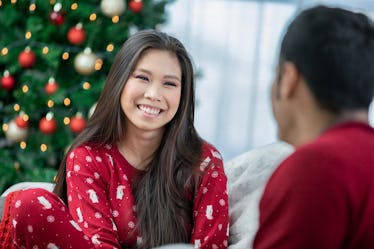 22 Instagram Captions For Your Cozy AF Holiday Onesie Pictures
It's the most wonderful and coziest time of the year. The holiday season is officially in full force, and the stress of finding the perfect presents, along with figuring out how to get all your family on Zoom at the same time, might have your tinsel in a tangle. One thing you won't have to worry about, though: what you're going to wear, because a Christmas onesie is never out of style (or comfort) in December. Being festive certainly calls for some Instagram captions for holiday onesies, and I have you covered.
Sometimes, the most stressful part of the season is curating the perfect post to show your followers. As if the competition for the best light display in your neighborhood was not enough, the pressure of social media is absolutely ho-ho-horrible.
White Christmas lights already make for the most ideal lighting, so check that off your list. But before you start Googling snow puns, looking up song lyrics to Mariah Carey's "All I Want for Christmas is You," and polling friends for the perfect holiday onesie Instagram captions, let me lend a helping hand. Just put me on the nice list for next year and we're even.
1. "You're the one-sie for me."
2. "Oh deer."
3. "It's called fashion. Look it up."
4. "'Tis the season for being comfy and bright." — Marisa Casciano
5. "All I want for Christmas is to be constantly in a onesie." — Marisa Casciano
6. "Playing dress up begins at age five and never truly ends." — Kate Spade
7. "Ugly sweaters are SO last season." — Marisa Casciano
8. "It's so fluffy!" — Agnes, Despicable Me
9. " ... Are the new reindeer." — Marisa Casciano
10. "Life is a party, dress like it." — Audrey Hepburn
11. "The snuggle is real."
12. "But first, let me take an elfie."
13. "Pajamas & chill." — Marisa Casciano
14. "In the cookie of life, friends are chocolate chips." — Salman Rushdie
15. "Sweet as a Christmas cookie."
16. "Decked the halls out." — Marisa Casciano
17. "All you need is love... and onesies."
18. "Fleece Navidad."
19. "Walking in a onesie wonderland." — Marisa Casciano
20. "Holiyays..."
21. "We go together like hot chocolate and marshmallows."
22. "It's the sweet life."
This article was originally published on