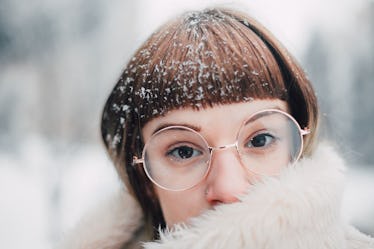 Cold Weather Can Actually Be Great For Your Health In These 6 Subtle Ways
Please excuse me while I quickly interrupt your holly jolly holiday season celebrations, but guys, Jan. 1 is only days away, and it's cold outside. But before you go cursing Mother Nature for making temperatures drop and your noses run, rumor has it that, contrary to popular belief, brisk conditions aren't necessarily what's so troubling to your immune system this time of year. In other words, you don't have to be weary of winter, because cold weather can actually be good for your health sometimes, not detrimental. Of course, that isn't to say you shouldn't still bundle up when the dial on your thermostat's chillin' at the below-freezing line; it just means it wouldn't be such a bad idea to embrace 30 degrees and under every once in awhile.
I don't know about you, but sweater weather has always been my jam. What can I say? Jack Frost and I are kindred spirits. Still, I understand why a lot of people have gripes with winter: The cold isn't exactly comfortable, and it just so happens that cold and flu seasons are at their peak when the outdoor temperatures at their lowest. Plus, Dr. Amesh Adalja, an infectious disease specialist and spokesperson for Theraflu, tells Elite Daily that "the cold weather also brings people indoors and in contact with each other much more frequently," which is what ultimately leads to the spread of germs, and can increase your chances of catching these bugs.
Still, there are health benefits to spending time in the cold weather on occasion. So even though you might not want to hang outside 24/7 come wintertime, here are a few reasons why getting a little bit of that brisk, fresh air can be good for your health.