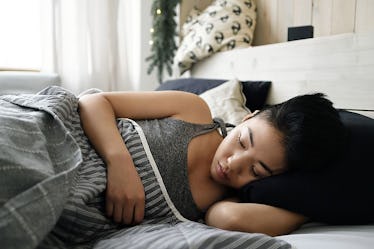 The Winter Solstice May Try To Ruin Your Sleep, So Here's How To Snooze Through It
The winter solstice is upon us! Since the days get shorter around this time of year, some people definitely find themselves groggier and more apt to nap and oversleep. And with the the shortest day and longest night of the year creeping up this coming Thursday, Dec. 21, some of us might have trouble sleeping during the winter solstice, rather than snoozing for too long.
Again, while some people find they sleep a lot more, I personally have more trouble sleeping this time of year. The reason for this might, at least in part, have to do with SAD (seasonal affective disorder). When the hours of the day start shifting around and you get less sunlight, you are also making less serotonin — which helps regulate everything from your appetite to your mood and sleep patterns. And yeah, since winter solstice is the shortest day of the year, you might really be feeling the effects of the increased dark time.
But those of us who take the changes in light and season a little harder are not alone, my friends, and if you, like me, have trouble easing that restless mind and getting your Zs during the winter months, rest assured there are tips and tricks that might help you to save your snooze from being overtaken by the winter-time shifts in schedule.
Whether it's holiday stress or your body feeling totally out of whack when the solstice hits, be prepared with a few sleep hacks so you're rested come the weekend.