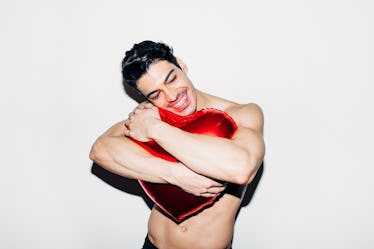 6 Incredible Valentine's Day Ideas That'll Make The Man In Your Life Melt
Women sometimes get a bad rap for being hard to understand, but the women I've encountered are all pretty straightforward when it comes to expressing their emotion. The men I know, on the other hand, can be like sealed boxes that need to be pried open with a wrench to get to what's really inside. It's true, I'm generalizing, but if you're reading this, you're probably just as confused as I am when it comes to guys (even if you are a guy yourself). Because with all those cryptic feelings, how do you figure out the best Valentine's Day 2018 ideas for him?
He's probably not going to come straight out and tell you what he wants for the holiday. He might not think he's even "supposed" to do that, since some people tend to think that Valentine's Day is secretly all about what women want (spoiler alert: it's not – it's a celebration of love, regardless of gender).
When thinking of the perfect gift for your guy this year, consider tapping into his sweet side. Strict gender roles are so 1958, and there's no reason your significant other shouldn't be able to appreciate Valentine's Day in all of its mushy, romantic, red-and-pink glory. Below are six dreamy gift ideas that he'll be able to cherish forever.
1. A Memory-Making Device
Most guys like gadgets, but not many guys are great at capturing treasured moments. The Polaroid Snap Touch camera is an easy way to get him pumped on taking pictures of all of your amazing experiences together. The best part? The built-in printer produces high-quality, full color photos on adhesive-backed paper, making for tangible momentos that outshine his smartphone photos.
2. A Book Of Keepsakes
No matter what kind of events your man is into — be it sports, concerts, or comedy shows — a diary to keep all of his ticket stubs serves as a sentimental reminder. There are clear sleeves that fit tickets of all different shapes and sizes, plus margin space to jot down anecdotes from each experience.
3. The Ultimate Netflix & Chill
This easy-to-set-up projector magnifies images from your phone onto a 40" screen, making for the perfect at-home movie night. For Valentine's Day, try one of these sexy movies to set the mood.
4. Tap Into His Crafty Side
Dudes drinking beer is kind of a thing, but teach a man to make his own beer and he'll love you for life. The Everyday IPA Beer Making Kit simple enough for beginners but uses real ingredients so it's tasty enough for an advanced palate.
5. Stay By His Side
This personalized luggage case cover will keep you at his side no matter where he goes (in a pretty hilarious way). You probably already stand out in the crowd for him, but now you definitely will.
6. Or Get In Sync
We-Vibe fashions this the height of sex toy technology, and I can't argue with them. It's hard to pull yourself away from your smartphone these days, but this way, you'll both complain a lot less about all that time you're spending on them. The toys are app-controlled and designed to be worn during sex, providing pleasure to both partners.
It might seem like a girly holiday, but Valentine's Day, with the right gift, can be the perfect day to woo your man.
Check out the entire Gen Why series and other videos on Facebook and the Bustle app across Apple TV, Roku, and Amazon Fire TV.
Check out the "Best of Elite Daily" stream in the Bustle App for more stories just like this!