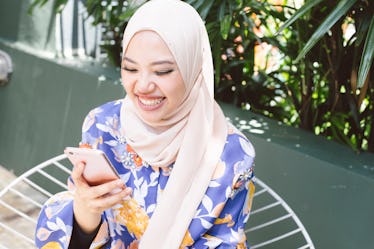 Grubhub & 5 Other Types Of Virtual Flirting That Are Both Kind Of Cute & Creepy
My middle school French teacher would always say, "Use the test to take the test." This meant that the answers to some of the questions — a conjugated verb here or a plural pronoun there — may have been written in other places on the exam. As a scheming earth sign, I think of this often when I'm cyber lurking on my crush. While scrolling through your boo's personal social media is more common, there are many types of virtual flirting, especially in ways you wouldn't expect. It seems like there's an app for everything these days, but what happens when we use apps in ways that they weren't intended for? Can we use Grubhub to find love?
Of course, let's first establish that every internet encounter is not flirting, and that having an internet presence, no matter how big or small, is not validation or allowance for people to cross boundaries or make you feel uncomfortable. Perhaps then, these ways of virtual flirting can also act as a reminder of traces we might not realize we're leaving on the world wide web, or maybe some inspiration for spicing up your phone-flirting game.
As an old soul, I would always suggest in-person communication, especially when talking about dating. Yet, my phone lives in my hand just like the rest of my generation, and I've come to think of these seven virtual moves that toe the line as both creepy and cute.