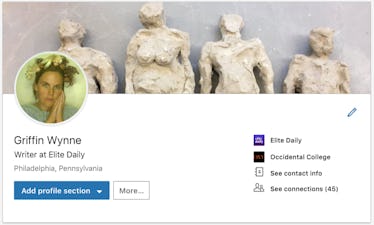 7 Signs Your New LinkedIn Connection Wants To Be More than "Just Coworkers"
Courtesy of Griffin wynne
If there is good in this world, we will live to see a remake of the iconic 2000s TV show, "The Office." Although the classic only ended in 2013, it's astonishing to think about all the differences a mockumentary about a current American workplace would have. Would Kelly and Ryan have matched on Tinder? Would Schrute Farms be on UberEats? Would Jim have crept on Pam's LinkedIn? When crushing on a coworker, it can hard to navigate what's work appropriate. For example, is LinkedIn flirting real?
If you share a desk, a cubicle, or a bouncy ball, and innovate "think space" (@ the tech industry) it's natural to start to share some feelings. You see them everyday, they understand why your boss is stupid, and they probably have some similar interests to you, if you ended up at the same office. If they don't have your number and don't follow your personal social media, they may use that they can to learn more about you. Don't be fooled by it's professional language and admiration by college counselors everywhere — LinkedIn can give you some good insight on your boo. Seeing your crush's LinkedIn is like peeking their resume, and after all, a first date is kind of like an interview, right?
Here are five signs your new LinkedIn connection could turn into something more.