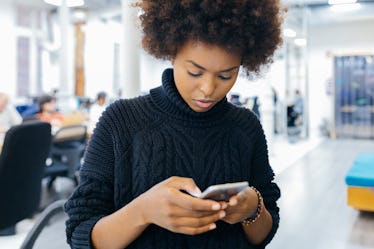 Here's How To Text A Coworker To Make Plans Outside The Office
Connecting with coworkers might give you those old high school or college feels. Everyone is designated to be in one place, on specific days of the week and interact, mostly professionally. But sometimes, those people seem cool as hell in the professional-sphere that you want to hang out and befriend them outside of work. If this is your first job, knowing how to text a coworker to make plans outside of your job might be new to you. That's where the expert advice comes in.
You might be used to working with at least one person you knew previously, but when you're starting fresh in a new workplace where no one has ties to you, it can be a bit intimidating to make the first platonic move. You also don't want to come off as "trying to hard" or being needy. You think they're cool and even though you two are mandated to be in the same place, you actually enjoy their vibe and company.
Subside that anxiety over making the first move, though, because I spoke with spoke with a couple of experts in interviews for Elite Daily to give you a little bit of insight before you send a flurry of expressive emojis when you ask a coworker to hang after hours. Who knows, a work bestie may be in your future sooner than you think.