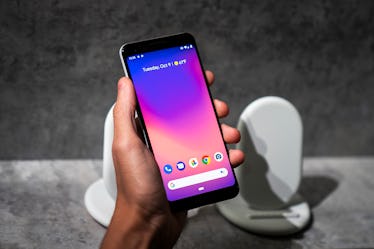 Google Announced A New Phone Plan That'll Give You Cash Back If You Sign Up Today
Drew Angerer/Getty Images News/Getty Images
For the first time ever, Google is expanding the coverage of its popular Project Fi phone plan to include iPhones, Samsung phones, and OnePlus phones — and rebranding to a cool new moniker while it's at it. When the Google Fi phone plan officially launches on Wednesday, Nov. 28, you will have one day to sign up and save money on your next vacay or get cash back. ICYMI, the mobile data and voice plan offers perks like international data coverage at no extra cost and free data-only SIMs for your other devices, and the cash back offer is just the icing on the cake. Cyber Monday may be over, but you can still jump on some serious savings, albeit for a very limited time.
For Wednesday only, new and existing Fi subscribers can take home their new Google Fi phone along with some great travel perks that pretty much make your new gadget pay for itself. According to press materials, when you purchase a new phone from Google Fi on Nov. 28, you'll receive the entire cost of your phone back in travel gift cards that you'll actually want to use. That includes credit towards flights with major airlines like Delta and Southwest as well as gift cards towards lodging at Airbnb and Hotels.com, meaning that you could potentially be scoring a completely free vacation along with your phone purchase. If you have yet to plan your warm weather getaway when the winter blues hit, this will be a complete lifesaver.
However, considering that Google Fi is now available on a handful of new devices, including iPhones, Samsung phones, and OnePlus devices, you might want to keep your existing device and sign up for Google Fi on there. New subscribers will also get cash back when they make the switch. According to press materials, new customers who sign up for Google Fi on Wednesday, Nov. 28 can walk away with $200 of Fi service credit, which you can use to pay your phone bills and other costs. Just make sure to check that your phone is compatible, then sign up.
If you've been considering a switch to Google's mobile and data plan, now's the time to make moves. Not only are many Android smartphones like Samsung, LG, Moto, and OnePlus devices covered under the plan, but for the first time ever, iOS users can also get in on Google's coverage. Just keep in mind that iPhones' Google Fi coverage is in Beta mode, so there's a chance that iOS customers won't be receiving all of Google Fi's features, although "reliable coverage, easy group plans, and high speed international data coverage for the same rates you pay at home" will be included with any device. According to press materials, iPhone customers can head to the Google Fi iOS app to learn more and sign up to get in on Fi's features with no contracts or hidden fees.
If you're unfamiliar with Fi's coverage, here's a quick refresher. Google Fi, which prides itself on zero contracts or extra fees, offers features like spam protection, free data SIMS for your other gadgets, and bill protection, which gives you the option to pay for unlimited data only when you need it. My favorite feature is that Google Fi customers don't have to pay extra for data coverage in 170 international countries and territories, meaning that you'll be paying the same $10 per GB when abroad that you'd be paying stateside.
Again, cash back on your travels or phone bills is only available through Wednesday, Nov. 28, so I'd take a minute to see if your current device is compatible or browse Google Fi's smartphone options to see what works best for you. If you've been thinking about signing up for Fi, you're not going to want to sleep on these limited-time perks.